This content will be shown before all post
The good news is that this DIY treadmill desk doesn't require any tools, cost me less than $50, and it can be finished in less than an hour!
I have been wanting a treadmill desk for awhile now since my day job has me sitting behind a desk all day.  Unfortunately buying a treadmill desk was too far out of my price range and I'd like to be able to use the treadmill for running as well.  There are affordable laptop/iPad holders that would work great if you plan to watch movies, but don't actually need to type on them, but I wanted lots of space so that I could have plenty of room to work on the blog tasks and not feel like it was a burden to get my 10,000 steps in a day.
I went searching for an option that I could implement myself without needing the tools or a background in woodworking.  I came across this option and I knew it would be the perfect solution, mostly because I have owned a table like the one used and knew I could find it again.  I documented the steps below and snapped a few pictures while I was at it.  It literally took me less than an hour to drive to the stores, pick up the supplies, and install the desk.  It can also easily be completed with one person..though it would be a little easier to have a second person when you are installing the desk.
Click Here to Pin It!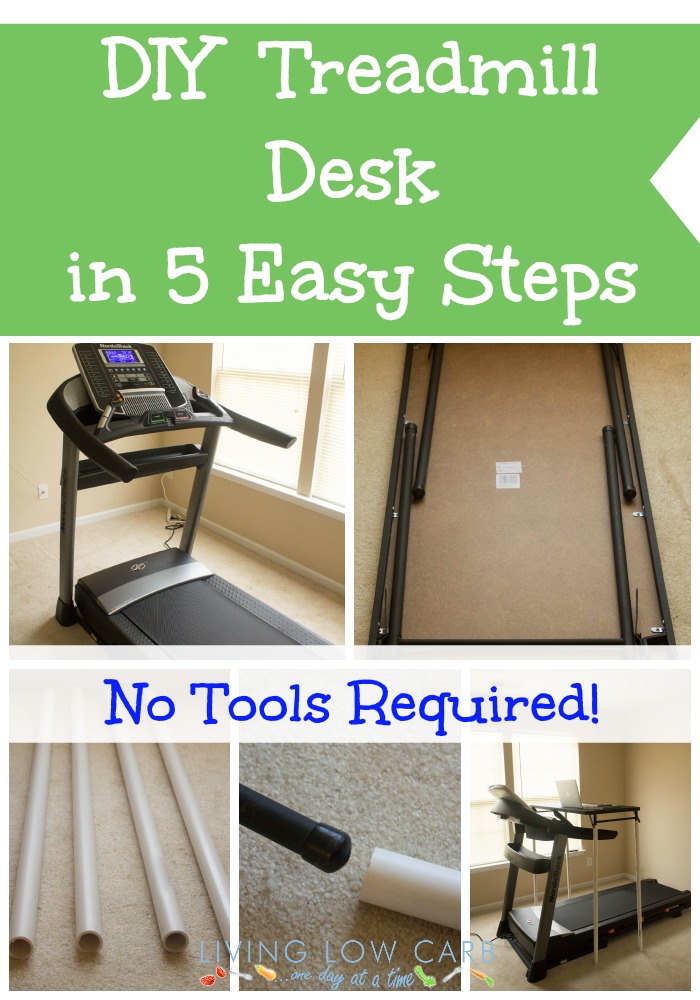 1. Locate and Measure Your Treadmill
The New Year usually means a renewed desire to get moving again.  Now is the time to locate your treadmill under all of the piles of clothes, random papers, or layer of dust.  For me I have a room dedicated to exercise/my treadmill, but I needed to get my treadmill in working condition again. After a few tweaks, my treadmill was ready for action and its new desk.  I measured the height of the handle bars which for my treadmill was about 44″ high.  I decided to go with 45″ high for the legs plus with the tabletop it adds another 4″ to the length of the PVC pipe so it would be a total of 49″ high, which would give me enough clearance to clear the handle bars and also was a great height for me to comfortably type on my laptop without hunching my shoulders over or lowering my head.  You may need a slightly higher length for you to comfortably work and to clear your handle bars.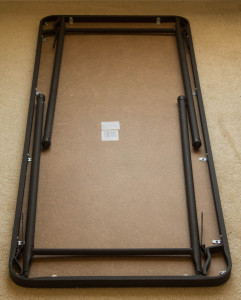 2. Obtain the Table Top
I wanted a table top that was wide enough to hold more than just a laptop so I could edit pictures, watch videos on my iPad, maybe add an additional monitor to my laptop, etc.  I didn't want to have to be confined to just the width of the handle bars. I knew I could easily find a table top that would be perfect for the treadmill desk at a local store.  I found the table I used at Walmart for a little less than $30, but if you aren't able to find it locally this table is similar to the one I used.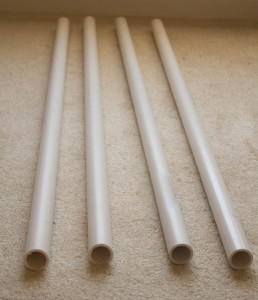 3. Cut the PVC Pipe Legs
In order to use the table a treadmill desk you will need to lengthen the legs of the table using PVC pipe.  I headed to Lowes and picked up 4 pieces of PVC pipe 1″ wide (2-10ft pieces cut into four 45″ legs).  I had the folks at Lowes cut the pieces down to 45″ tall, but you could easily cut the pipes yourself with a hacksaw if needed.  Be sure to have the PVC pipe cut to the length you measured based on the height of your handle bars and a comfortable working height.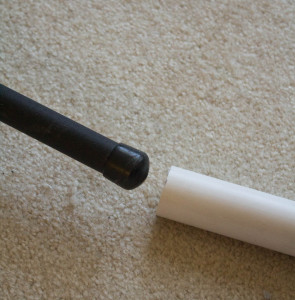 4. Attach the Legs
I then slipped each table leg through a piece of PVC pipe.  The pipe easily slipped onto the legs of my table, but you may have to remove the rubber stoppers on the end of your table in order to slip the pipes on.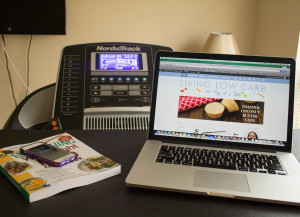 5. Install the Desk and Get Moving
After slipping the PVC pipes onto the table legs I placed the desk over the handle bars of the treadmill (this is where it would help to have a second set of hands to help keep the PVC pipes on the legs).  Once the desk was in place, I placed my laptop on the desk and started up the treadmill.  Perfect!  I was of course wearing my FitBit so I could track my steps (get a FitBit here).  My goal is to walk at least 10,000 steps a day, but I really would like to walk 15,000-20,000 a day.  I was walking at a slow enough pace so that I can still work while moving.  I found myself busily working and in what felt like no time (but was more like an hour) I had about 3,500 steps on my FitBit and it didn't even feel like work.
Don't want to make your own treadmill desk? You can buy one here or use this Treadmill Laptop/iPad holder .
A word of warning:  The PVC pipe legs aren't completely sturdy if they are bumped into.  If you have small children or pets that would bump into the legs it might be a good idea to keep them away from the desk.  The good news is that the table is independent of the treadmill so the movement from the treadmill doesn't cause motion on the desk. I may try adding additional PVC pipe to make it a little more stable, like this one here.  I will definitely report back and let you know.
Click +1 Below:
This content will be shown after all post