This content will be shown before all post
I'm currently doing a sugar detox so making desserts for the blog just isn't in the cards for me right now, but I wanted to make sure you had a delicious option for Valentine's Day, or any day you are craving some delicious chocolate. This recipe is a Paleo version of Chocolate Souffle.
Today's guest post comes from Jaime of Gutsy by Nature.  If you haven't been to Jaime's blog you should definitely check it out (here) and don't forget to follow her on Facebook.  Jaime's sharing a recipe for Paleo Chocolate Soufflé.  I can't wait to make it once my sugar detox is over!
Want to wow your loved ones with a restaurant-quality decadent dessert that won't completely derail your healthy eating? If so, this recipe for grain-free, dairy-free, low-sugar dark chocolate soufflé is for you! Souffles have a reputation for being temperamental so most home cooks never even try them, but they really aren't that difficult at all. The only trick is getting the timing right so that you can serve it straight out of the oven as the impressive puffing up will begin to deflate almost immediately. You can however prepare the batter up until the baking point, cover with plastic wrap and refrigerate. Just remove from the refrigerator and allow it to come to room temperature about an hour before you are ready to bake.
Click Here to Pin It!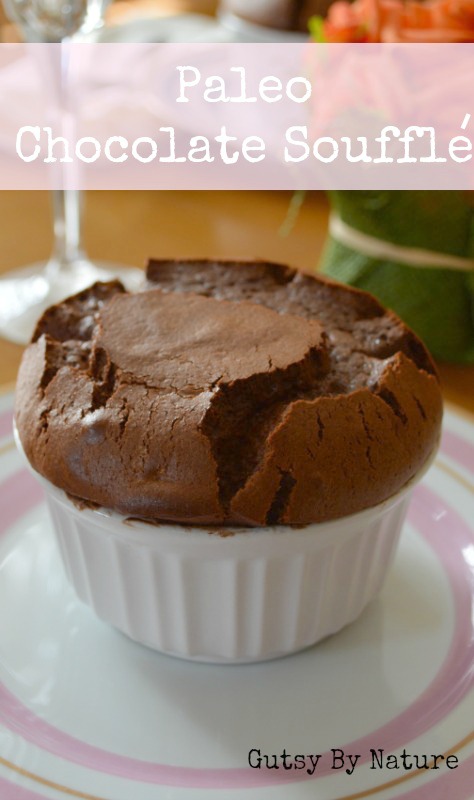 Ingredients
2 tablespoons coconut oil (plus more to grease ramekins)
1 tablespoon unsweetened cocoa powder
3 ounces extra dark chocolate (72% cacao or higher)
½ teaspoon vanilla extract
1 tablespoon coconut milk
1 tablespoon honey (optional)
2 egg yolks
2 egg whites
pinch salt
pinch cream of tartar
Instructions
Heat oven to 375 F.
Grease two 7 or 8 ounce ramekins with coconut oil. Coat ramekins with cocoa powder, tapping out the excess.
In a double boiler, or a large bowl set over a pan of simmering water, melt the chocolate and coconut oil. Stir occasionally until smooth.
Remove chocolate from heat and add the vanilla, coconut milk, and optional honey.
Whisk in the yolks one at a time until smooth. Set aside.
By hand or using a mixer, beat the egg whites with the salt and cream of tartar until stiff peaks form.
Gently fold the egg whites into the chocolate. Spoon into the ramekins.

NOTE: The recipe can be made to this point up to 1 day ahead. Cover with plastic wrap and keep in refrigerator. Remove from refrigerator about one before you are ready to bake and allow to come to room temperature.

Bake until puffed and set, about 15 minutes. Serve immediately.
Notes
Total Carb Count: 10.35 g (for 1 serving with 85% dark chocolate and no added honey)
Net Carb Count: 6.2 g net carbs (for 1 serving with 85% dark chocolate and no added honey)
https://holisticallyengineered.com/2014/02/paleo-chocolate-souffle.html
About the author: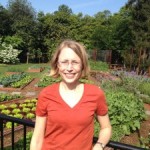 Jaime Hartman blogs at Gutsy By Nature (visit it here), where she shares recipes and research relating to her story of healing and managing Crohn's disease through a grain free paleo-style diet. She lives in northern Virginia with her husband and two pampered pets. By day she works in literacy education and is a part-time yoga teacher.
Links to social media…
Facebook https://www.facebook.com/gutsybynature
Pinterest http://www.pinterest.com/jaime_hartman
Twitter http://www.twitter.com/gutsybynature
Instagram http://www.instagram.com/gutsybynature
Google+ https://plus.google.com/+Gutsybynature/
This content will be shown after all post