This content will be shown before all post
I don't often eat bananas because they are pretty starchy and my desk job doesn't really make me need to replenish my glycogen stores…i.e. I'm not doing a lot of heavy exercise (a big topic at Primal Con Tulum). Recently I had some banana and noticed I didn't get a huge blood sugar spike or the "sugar" crash that happens when I have too many carbs.  It must be my body's way of telling me I needed the extra potassium 🙂 Anyway, I decided to turn the banana into an easy cookie recipe that doesn't require any additional sweetener.  It has all the flavors of banana bread and the natural sweetness from the bananas.
Bananas may be a no no for some, but I wanted to share a naturally sweetened treat when you're wanting some banana flavor.
Click Here to Pin It!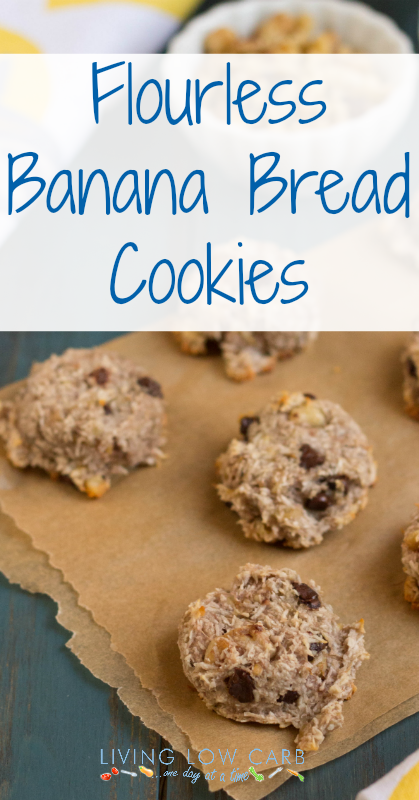 Ingredients
2 ripe bananas
1 1/4 cup shredded unsweetened coconut
1/4 cup chopped walnuts
(Optional) 2 Tbsp chopped chocolate
(Optional) Additional sweetener, to taste
Instructions
Preheat oven to 350 F.
On medium speed, mix the bananas (and sweetener, if using) until smooth.
Add the shredded coconut and mix to combine,
Add the walnuts and chocolate and stir to incorporate.
Scoop out the dough onto a placement lined cookie sheet (makes about 17 cookies).
Bake for 15 minutes or until golden brown.
Notes
Total Carbs: 4.2 g (for 1 cookie)
Net Carbs: 3.1 (for 1 cookie)
*Note carb counts are estimated based on the products I used. Check nutrition labels for accurate carb counts and gluten information.
https://holisticallyengineered.com/2014/03/flourless-banana-bread-cookies.html
Click +1 Below:
This content will be shown after all post