This content will be shown before all post
So lately I've had an obsession with mashed cauliflower since it's such an easy side dish.  I usually steam some frozen organic cauliflower (or fresh if I have some hand), add some ghee, salt, and pepper.  Then I just buzz it with my immersion blender until it's smooth.  So perfectly easy and delicious!  Well, I wanted to make something a little different with my typical cauliflower mash and I had seen this Cauliflower Sauce recipe all over Pinterest.  I decided to take my usual cauliflower mash, add some additional flavor, and make a thinner sauce.  I ended up serving it on zucchini noodles and it was so nice and creamy with the only dairy being ghee (which most dairy intolerant folks can usually handle), but I'm sure it would be good with coconut oil (expeller pressed doesn't have the coconut taste) to make it completely dairy free.
I ended up topping my noodles with some crumbled bacon and I added some sliced grilled chicken.  The great thing about this sauce is that you can use as much as you prefer. I ended up using about half of the sauce and saving the other half for Chicken Pot Pie (recipe coming soon!).
Click Here to Pin This Post!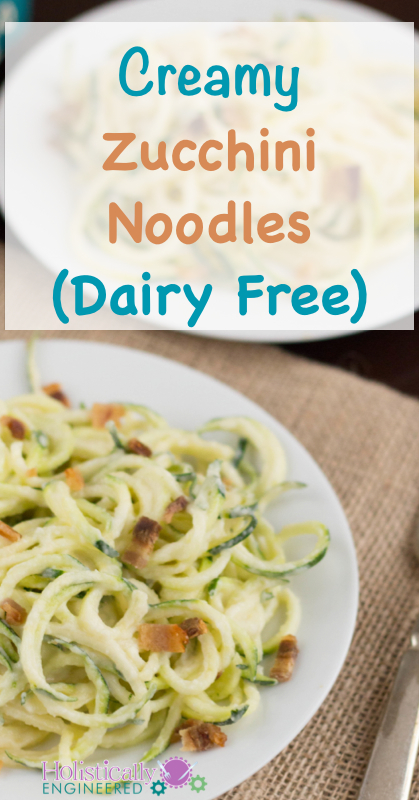 Creamy Zucchini Noodles with Bacon (Dairy Free)
Ingredients
For the sauce

1 lb frozen cauliflower florets (or fresh)
2 cups chicken bone broth, heated
1/2 tsp garlic powder
1/4 cup ghee/butter or coconut oil
1 teaspoon real salt (season to taste)
½ teaspoon pepper (season to taste)

For the noodles

4 zucchinis, cut into noodles (I use this tool or read this post to learn how to make zucchini noodles)
4 strips of sugar free bacon, cooked and crumbled (add more bacon if desired)
Instructions
For the sauce

Steam the cauliflower and cook for 8-10 minutes or until cauliflower is tender.
Place the cauliflower into a blender.
Add 1 cup heated chicken bone broth and blend until the cauliflower is well blended.
Add the ghee, salt and pepper and blend until smooth.
Add addition broth, if desired, for a thinner sauce.

For the noodles

(Optional) Saute the zucchini noodles in a large pan over medium high heat for 1-2 minutes or until slightly tender.
Add the cauliflower sauce (start with half the batch and add more if desired) and stir to coat the noodles. Save any extra sauce for Grain Free Chicken Pot Pie (recipe coming soon).
Top with crumbled bacon when serving. The noodles also go great with grilled chicken.
https://holisticallyengineered.com/2014/04/creamy-zucchini-noodles-bacon-dairy-free.html
This content will be shown after all post