This content will be shown before all post
After making a super easy creamy cauliflower sauce I ended up having some leftovers and I knew it would be perfect in a casserole type dish without adding a ton of dairy.  I had a huge craving for Chicken Pot Pie so of course I had to make a grain free and paleo version to satisfy my craving.
The great thing about this Chicken Pot Pie is that is it pretty customizable and you can use the veggies you prefer.  Just make sure they are precooked (unless they are naturally tender) and it's probably not a could idea to use veggies that have a high water content.
The leftovers were just as delicious.  My plan was to freeze a serving or two before baking to see if it would work, but I ended up cooking them all at the same time.  I do believe that if you freeze a prepared serving (uncooked), let it thaw, and then bake it will turn out great.  I'll be making this again so I can test out that theory.  Let me know if you try it!
Click Here to Pin This Post!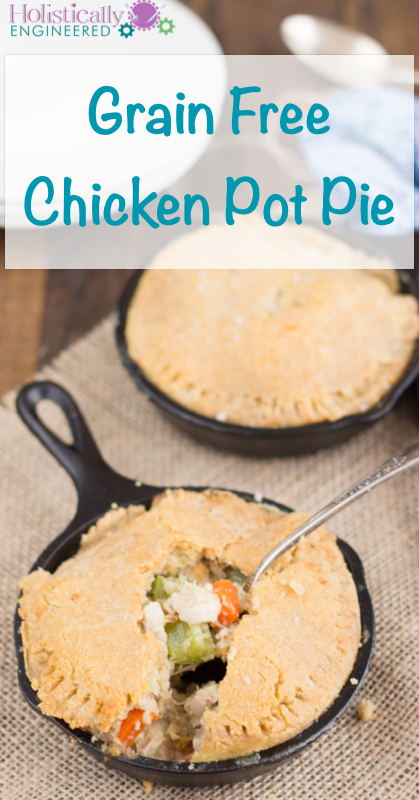 Grain Free Chicken Pot Pies
Ingredients
2 carrots, chopped
3 ribs celery, chopped
2 cloves garlic, minced
3 cups chopped cooked chicken
1/2 tsp real salt
1/4 tsp black pepper
1 cup cauliflower sauce (get the recipe here)
1/2 cup chicken bone broth

Crust:

1 cup almond flour
2 Tbsp coconut flour
1 tsp baking soda
2 Tbsp butter, very soft
1 egg
Juice of half a lemon
Instructions
Preheat oven to 375 F.
In a medium pan, heat 2 Tbsp of butter (or fat of choice) and add the carrots and cereley and cook for for 10 minutes. Add the garlic and cook for an addition 2 minutes or until the veggies are tender.
Add the chicken chicken, salt, black pepper, cauliflower sauce, and bone brother.

For the crust

Mix together the almond flour, coconut flour, and baking soda. Add the butter, egg, and lemon juice. Mix to combine.
Roll out the dough in between two pices of parchment paper until it's about 1/4" thick
Cut out the dough to fit the ramekin/baking dish you are using.
Fill four ramekins with the chicken/veggie filling and place the dough on top of the filled ramekins.
Pinch the edges with a fork and score the dough in the middle.
Bake for 15-18 minutes or until golden brown on top.
https://holisticallyengineered.com/2014/04/grain-free-chicken-pot-pies.html
This content will be shown after all post