This content will be shown before all post
So for the last few days I've been in Hungary for a work trip and I have to say that it has been such a wonderful trip!  I've been getting so much inspiration for dishes to make when I get back to the states so definitely stay tuned!  So what does this have to do with Grain Free No Bake Double Chocolate Cheesecake? Absolutely nothing!  But before I left for my trip I decided to make a chocolate version of the no bake cheesecakes that have been popular on my blog lately.  In case you missed the original No Bake Cheesecake (get the recipe here) or the No Bake Lemon Cheesecake (get the recipe here) you can check out these delicious desserts too.
For now enjoy this delicious Grain Free No Bake Double Chocolate Cheesecake and follow me on Instagram (@holisticallyeng) to see pictures from my Hungary trip.
P.S. If you make any of my recipes I'd love to see them on Instagram so definitely tag me with @holisticallyeng 🙂
~Karen
Click Here to Pin It!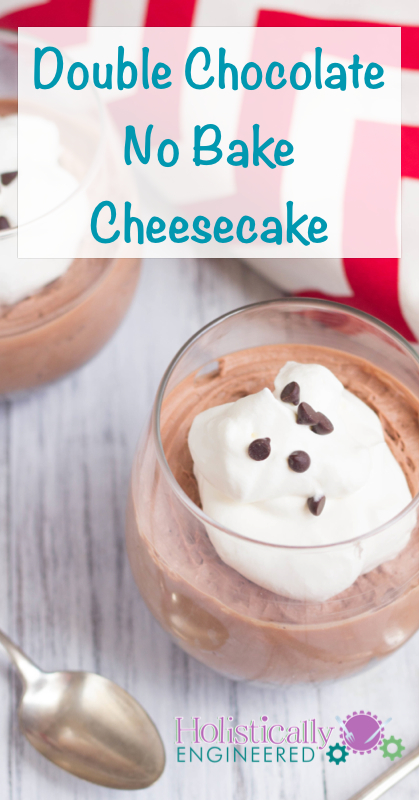 Grain Free No Bake Double Chocolate Cheesecake
Ingredients
For the Crust

1 1/2 cups of mixed nuts (I used 1/2 cup each of almonds, pecans, and walnuts)
1/4 cup cocoa powder
2 Tbsp granular sweetener or coconut sugar (sweeten to taste)
1/2 tsp cinnamon

For the Cheesecake

8 oz. cream cheese, softened
1 1/2 cups heavy cream
3 Tbsp cocoa powder
1/2 cup powdered sweetener (sweeten to taste) or honey for Primal
1 1/2 tsp vanilla extract
Instructions
For the crust

In a high speed blender or food processor, blend the mixed nuts, coco powder, sweetener, and cinnamon until finely ground and sticking together.
Place 1/4 cup of the nut mixture into the bottom of a small bowl or glass.
Repeat with 3 other bowls/glasses.

For the cheesecake

Beat the cream cheese with the sweetener on medium speed until smooth (about 2 minutes).
After scraping sides of the bowl, add the the cream, cocoa powder, and vanilla and whip (I used a whisk attachment on my mixer) on medium speed until light and fluffy (about 2 minutes).
Divid the mixture evenly among the four bowls/glasses.
Serve immediate or refrigerate to completely set.
https://holisticallyengineered.com/2014/04/no-bake-double-chocolate-cheesecake.html
This content will be shown after all post