This content will be shown before all post
I love making gelatin desserts!  It's so easy to throw together an easy dessert while getting all of the wonderful gut healing benefits of gelatin.  I've talked for awhile about how I'm on a journey to help heal the lining of my gut after years of off and on antibiotics and my latest bout with h. pylori and grassfed gelatin is one of my favorite ways to help heal my gut.  I'll be posting a blog post soon, all about the importance of gut health and signs that you may have a "leaky gut," so stay tuned!  The quality of the gelatin is important (this is the brand I use). The gelatin you normally find in regular groceries stores is missing the key vitamins and minerals to help heal the gut since it is made from animals that weren't allowed to feed on their natural diet (aka grass) and instead are given hormones and a diet full of genetically modified grains/corn.
This Coconut Pudding is completely dairy free and makes a great dessert that you can topped with fresh fruit, whipped coconut cream, and/or toasted coconut.
P.S. If you make any of my recipes I'd love to see them on Instagram so definitely tag me with @holisticallyeng 🙂
Click Here to Pin This Recipe!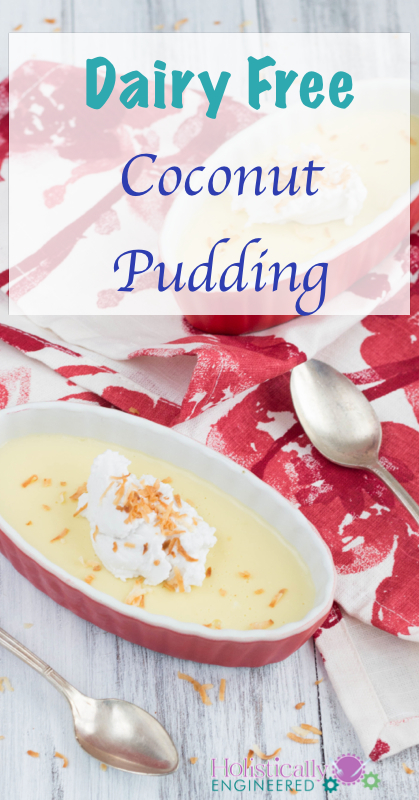 Ingredients
Instructions
In a small bowl, add the gelatin and 1 Tbsp of the coconut milk. Set aside
In a medium saucepan, over medium low heat add the remaining coconut milk and sweetener.
Cook for 3-5 minutes or until hot, stiring occasionally.
Add the egg yolks to a medium bowl.
Once the coconut milk is hot slowly pour it over the egg yolks whisking constantly.
Add the mixture back to the pot and cook for another 3-4 minutes or until slightly thicker.
Add the gelatin to the pot and whisk to incorporate.
Pour the mixture evenly into 4 ramekins and refrigerate until set (about 2 hours).
https://holisticallyengineered.com/2014/04/dairy-free-coconut-pudding.html
This content will be shown after all post