This content will be shown before all post
Grain Free Cinnamon "Rice" Breakfast Pudding
I've talked a lot about how I don't eat eggs for breakfast and it's not because I don't think eggs are a superfood with lots of nutritional value. It's simply because 1) I hate the taste of eggs…no matter how many different ways I've tried them 2) I think my dislike of the taste of eggs stems from always having a bit of a stomach ache every time I eat eggs.  I've never had a major reaction to eggs like hives or a rash…I've just always felt "off" after eating eggs especially when it's the main ingredient.  So naturally I've had to get creative in the breakfast department when I went low carb and then paleo.  Normally my go to breakfast is meat and veggies, but every once in awhile I like some different.  This Cinnamon "Rice" Breakfast Pudding was perfect for breakfast and a great way to start the day, and is easy for me to prepare since I found the best rice cooker to prepare this type of recipes.
P.S. If you've been struggling with breakfast ideas that don't include eggs check out my ebook, Awaken (you can see it here).  Lots of different ideas!
Click Here to Pin This Recipe!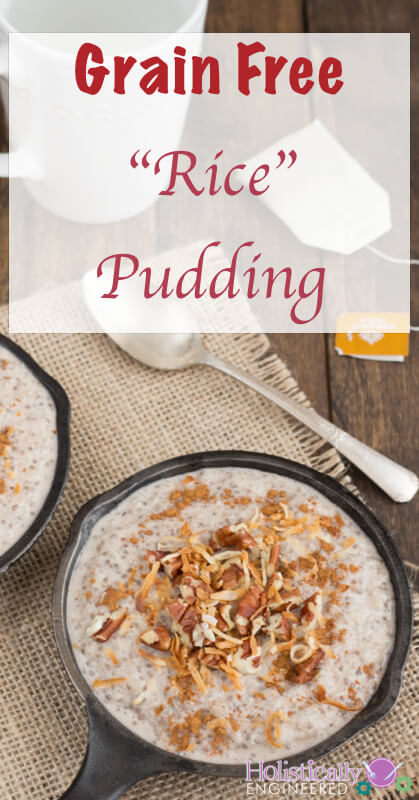 Cinnamon "Rice" Breakfast Pudding
Ingredients
Instructions
In a medium saucepan over medium heat, add the cauli-rice, coconut milk, and sweetener.
Cook for 8-10 minutes or until the cauli-rice is tender.
Off the heat, add the cinnamon and vanilla and stir to incorporate.
Next, add the chia seeds and stir to combine. Let sit for 5 minutes.
Stir one last time and serve warm.
https://holisticallyengineered.com/2014/05/cinnamon-rice-breakfast-pudding.html
This content will be shown after all post