This content will be shown before all post
Wow, it's been awhile since I've posted on the blog.  I've definitely needed a bit of a break to relax and spend time with friends and family.  To celebrate my return I have a delicious dessert recipe for you!  Strawberry season is in full force here in South Carolina and I've been looking for ways to use up all of the strawberries from my CSA.  While browsing through Pinterest I came across a neat looking strawberry jello recipe, but unfortunately it wasn't paleo or low carb.  I decided to make a dairy free and real food version that would have all of the gut heating benefits of grassfed gelatin plus the deliciously ripe strawberries.
If you're looking for more gelatin desserts check out my friend Caitlin's awesome ebook full of gelatin desserts, called Easy Paleo Gelatin Treats (you can find the ebook here).  It has 30 treat recipes to make it easy to get the nutritious benefits of grassfed gelatin in your diet.
Click Here to Pin This Recipe!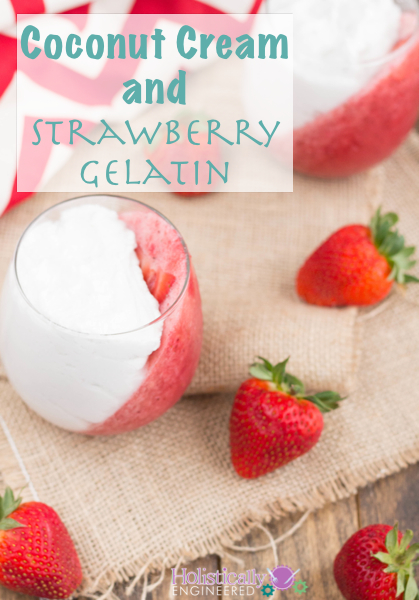 Coconut Cream and Strawberry Gelatin
Ingredients
For the Strawberry Gelatin:

1 lb strawberries (trimmed) plus 6 more strawberries for slicing (optional)
1 2/3 cup of how water
3 Tbsp of honey or Swerve sweetener (for low carb)
2 tbsp grassfed gelatin

For the Coconut Cream:

2 cups coconut cream (The cream that rises to the top of a coconut milk--refrigerate if needed. I use this brand)
2 Tbsp honey or powdered Swerve (for low carb)
Instructions
For the Strawberry Gelatin:

Blend 1 lb of strawberries until smooth. Add the hot water, sweetener of choice, and gelatin.
Pour into individual serving dishes* (makes 4-8 depending on the dish size) and top with sliced strawberries.
Refrigerate for 2 hours or until set.

For the coconut cream

Place the coconut cream in a mixing bowl and the sweetener. Mix over medium speed until the sweetener is well combined.
Once the gelatin is set, top (or fill the other side of the glass) with the coconut cream and serve.

*To get the look pictured, place the serving dishes/glasses at an angle into a muffin tin pan (as pictured below) and fill with the strawberry gelatin. Top with strawberry slices and refrigerate until set.
https://holisticallyengineered.com/2014/05/coconut-cream-strawberry-gelatin.html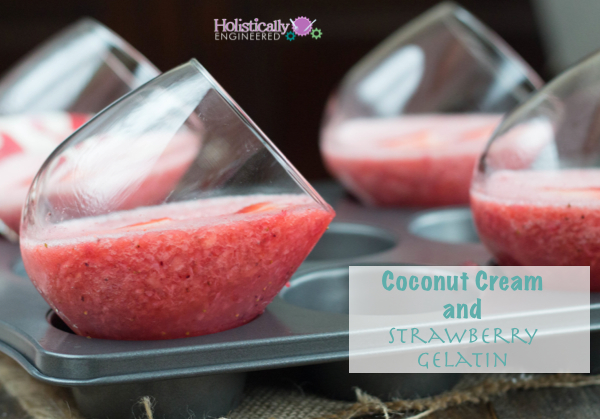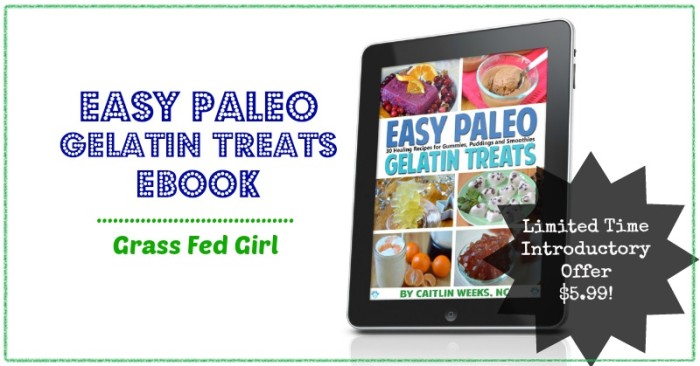 Click +1 Below:
This content will be shown after all post