This content will be shown before all post
Tomato season is quickly approaching and before long I will have tons of tomatoes in my CSA each week.  One of my favorite was to eat tomatoes is by quickly grilling them and then sprinkling them with some Real Salt and black pepper.  It brings out the natural sweetness of the tomatoes and pairs well with the salt. The warm tomatoes lightly melt the mozzarella which makes it even more creamy.  After assembling the salad I drizzle it with some extra virgin olive oil and balsamic vinegar which creates a delicious dressing for the salad.  I hope get a chance to enjoy this Grilled Caprese Salad this summer.
P.S. If you make any of my recipes I'd love to see them on Instagram so definitely tag me with @holisticallyeng 

Click Here to Pin It!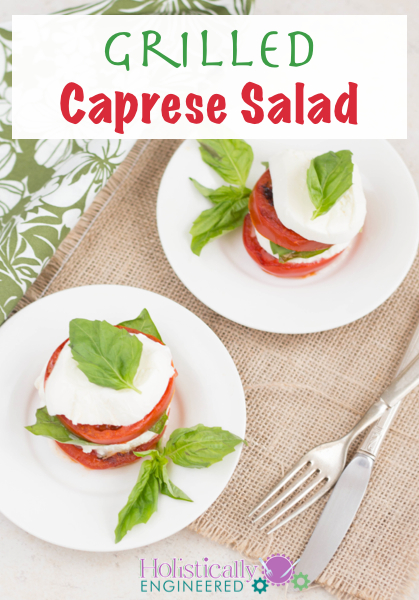 Ingredients
2 tomatoes
1 large ball of fresh mozzarella
6 basil leaves
Instructions
Heat a grill over medium high heat.
Slice the tomatoes in 1/2" thick slices.
Brush melted coconut oil (or olive oil) over the tomatoes and season with salt and pepper.
Place the tomatoes on the grill and let cook for 1-2 minutes.
Flip the tomatoes over and cook for another 1-2 minutes.
Slice the mozzarella into 1/2" thick slices.
Place on tomato slice on a plate and top with a mozzarella slice and then two pieces of basil. Repeat with another layer each of tomato, mozzarella, and basil.
Repeat with the remaining ingredients (should make a total of two salads).
Drizzle each salad with extra virgin olive oil and balsamic vinegar.
https://holisticallyengineered.com/2014/05/grilled-caprese-salad.html
Click +1 Below:
This content will be shown after all post