This content will be shown before all post
I've been struggling with digestive issues for awhile now that have not completely cleared up after changing my diet, getting rid of H. Pylori, etc.  I've been researching different possible issues.  I first suspected a histamine intolerance when I tried taking Fermented Cod Liver Oil (FCLO).  FCLO is something that the Paleo and Weston A. Price communities tout as a super food for all of its omega 3's and vitamin content, but every time I would take it I'd end up with chest pain/inflammation (don't worry I went to a doctor). It would go away as soon as I stopped the FCLO, but it left me wondering what was wrong with me.
Histamine Intolerance Experiment
Usually when I eat foods high in histamine my skins itches, my eyes water, and I start sneezing.  Nothing totally unbearable, but histamine could be causing my gut to not full heal.  My latest experiment is trying a low histamine diet. It will be an elimination diet–I'll eat my usual low carb paleo diet, but eliminate the foods that are highest in histamine or histamine releasers for 30 days.
Foods High in Histamine
Fermented foods and drinks (sauerkraut, kombucha, fermented cod liver oil, wine, etc.)
Cured meats (bacon, sausage, pepperoni, solami, etc.)
Vinegar and condiments containing vinegar (including ketchup and mayo)
Sour cream
Dried fruit (apricots, prunes, dates, figs, raisins, etc.)
Most citrus fruits (may be a histamine releaser)
Aged cheese including goat cheese
Nuts: walnuts, cashews, and peanuts
Smoked or canned fish (tuna, anchovies, sardines, etc.)
Fruits and Veggies: (tomatoes, spinach, avocado, eggplant, strawberry)
Spices like cinnamon, nutmeg, anise, etc.
There are also several foods that are considered histamine releasers or fall into a gray area so I will also eliminate those foods from my diet during the 30 days.
Click Here to Pin It!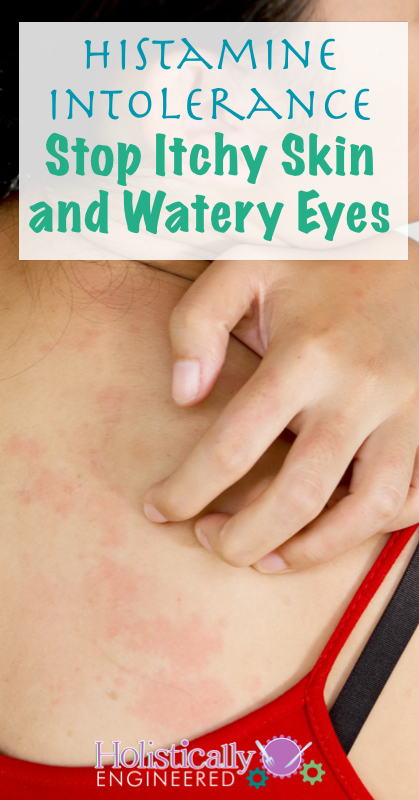 Symptoms and Why I'm Trying a Low Histamine Elimination Diet
For me the main symptoms are itchy skin, watery eyes, flushing/Rosacea (redness, acne like appearance on my face).  Also, the chest pain/inflammation that goes away once I stop eating fermented foods.  These symptoms point to a histamine intolerance and since there really isn't a test to confirm I will try an elimination diet.  Other symptoms include:
Headaches/migraines
Difficulty falling asleep, easily arousal
Hypertension
Vertigo or dizziness
Arrhythmia, or accelerated heart rate
Difficulty regulating body temperature
Anxiety
Nausea, vomiting
Abdominal cramps
Flushing
Nasal congestion, sneezing, difficulty breathing
Abnormal menstrual cycle
Hives
Fatigue
Tissue swelling
How I Stop Itchy Skin and Watery Eyes
While I try to control the level of histamines in my body from food and transition from an antihistamine pill I have been using essential oils as a natural way to control itchy skin and watery eyes.
In the Morning:
I take a dime sized chunk of coconut oil into the palm of my hand and add 2 drops each of Peppermint Essential Oil (in the Premium Starter Kit) and Copaiba Essential Oil and mix it together with my fingers.  I apply the mixture to my temples, the back of my neck, and to the bottoms of my feet.  The Peppermint helps give me a boost of energy in the morning and also helps calm itchy skin.  The Copaiba helps support healthy inflammation levels.
Before Bed:
An hour or so before bed I diffuse 6 drops each of Lavender Essential Oil (in the Premium Starter Kit) and Copaiba Essential Oil mixed with water in the Home Diffuser (that comes in the Premium Starter Kit).
The combination helps me get a restful nights sleep as well as help stop watery eyes from the excess histamine. For more on having a good night of sleep, check this post about some of the most popular anti-snoring devices.
Ready to Learn About Essential Oils?
Join our Facebook group to learn all about every day uses for essential oils.  Everything from beauty, natural remedies, house product replacements, recipes, etc.  Click here to join the group!
Click +1 Below:
This content will be shown after all post