This content will be shown before all post
As the weather warms up, I end up turning on my oven less and less.  Usually I like to have some fresh, no cook meals like salads, but cold soup also makes a great option.  Gazpacho is a cold soup with usually a tomato base and sometimes has added bread blending in.  Of course, I wanted to make a grain free version and found that I didn't need to add any bread at all.
I love the flavors of a BLT and figured it would make a fresh summer soup.  Before too long, tomatoes will be overflowing many of your gardens and this soup is a great option for using up all of those tomatoes.  The only cooking involved is bacon and it's never too hot to cook bacon!
Click Here to Pin It!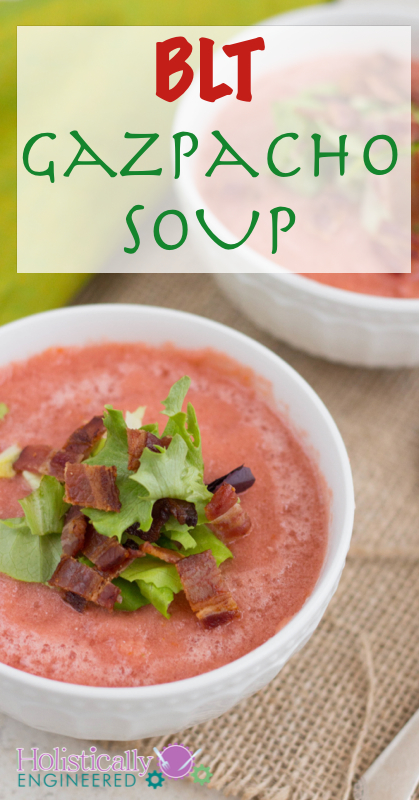 Ingredients
1 1/2 lbs of tomatoes
1/2 cucumber, peeled
1 garlic clove
Salt and pepper, to taste
6 strips of bacon, cooked and cut into bits
1/2 cup shredded lettuce
Instructions
Blend the tomatoes, cucumber, and garlic in a high speed blender.
Season with salt and pepper, to taste
Strain the soup in a bowl through a fine mesh strainer.
Transfer to serving bowls (serves 4) and top each bowl with shredded lettuce and bacon bits
https://holisticallyengineered.com/2014/05/paleo-blt-gazpacho-soup.html
Click +1 Below:
This content will be shown after all post