This content will be shown before all post
It's official…we totally skipped Spring here in South Carolina.  I went out of town for a week and when I got back it was in the upper 90's F with 100% humidity…in the beginning of June.  Grrreat….if you need me I'll be hibernating indoors or in the pool for the rest of the summer.  So naturally I have to stay cool with tasty ice cream treats this summer.  Earlier this week I shared Strawberry Cheesecake Ice Cream, but I know I need an option for the dairy free folks.  These Almond Joy Ice Cream Bites, are made with coconut milk ice cream, covered in chocolate, and sprinkled with finely chopped almonds (optional).  A bite sized dessert to help beat the Summer Spring heat.
You won't want to miss this one!
Click Here to Pin It!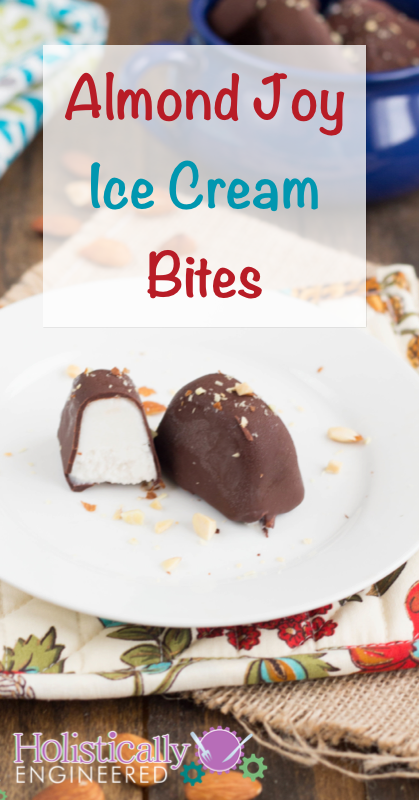 Almond Joy Ice Cream Bites (Paleo and Low Carb)
Ingredients
For the Ice Cream:

2 (13.5 oz) cans of full fat coconut milk
1 Tbsp pure vanilla extract (or the inside of 1 vanilla bean)
Sweetener, to taste (i.e. honey for Paleo or Swerve for low carb)

For the Chocolate Coating:

6 oz dairy free/soy free chocolate (for paleo) or stevia sweetened chocolate (for low carb--not dairy free)
2 Tbsp coconut oil
1/2 cup almonds, finely chopped (optional)
Instructions
To Make the Ice Cream

Combine all of the ingredients in a large bowl and then pour into the bowl of an ice cream maker.
Process according to the manufacturer's directions.
Once finished, spread the ice cream into ice cub trays.
Freeze for another 1-2 hours until hardened.

To Coat in Chocolate

Melt the chocolate and coconut oil in a double boiler (a glass bowl over the saucepan of simmering water--make sure the water doesn't touch the bottom of the bowl).
Remove the ice cream from the ice cube trays and keep them in the freezer while working in small batches.
Coat each ice cream cube with chocolate and place on a parchment lined baking sheet (that will fit in your freezer).
While the chocolate is still warm sprinkle with chopped almonds.
Repeat with the remaining ice cream cubes and place the coated ice cream cubes in the freezer to harden (be sure to work in batches both before and after dipping so that the ice cream doesn't melt).
To serve, allow to thaw for 2-3 minutes before eating.
https://holisticallyengineered.com/2014/06/almond-joy-ice-cream-bites-paleo-low-carb.html
Click +1 Below:
This content will be shown after all post