This content will be shown before all post
 Today's blog post is a guest post from Maria Emmerich of Maria's Mind Body Health Blog.  Maria is sharing with us the benefits of vanilla beans as well as a delicious recipe for Floating Islands.  Floating Island is traditionally a French dessert made from meringue and a vanilla custard.  Maria tops her Floating Islands with a homemade caramel sauce.  Let's give Maria a warm welcome and don't forget to follow her page on Facebook.  
I had the awesome opportunity to meet Karen on the Low Carb Cruise last week and she really is as sweet as she comes across on her blog! She let me tag along after dinner to various shows with her family. One thing I love about life is that out of nowhere you can be floored by the generosity of others. Throughout this journey I have been able to befriend some amazing people. Karen's generosity and kindness shines through and I can't thank her enough for an opportunity like this. I am very grateful to have met such giving people such as Karen.
Why Vanilla Beans vs Extract
SPICES FOR PHYTONUTRIENTS 
Vanilla beans are high in phenolic compounds which are potent antioxidants (as well as anti-microbial and anti-inflammatory). Most people often use vanilla extracts rather than the bean because it is easy to find and affordable. But if you are side stepping using real vanilla beans, you are missing out on some awesome antioxidants.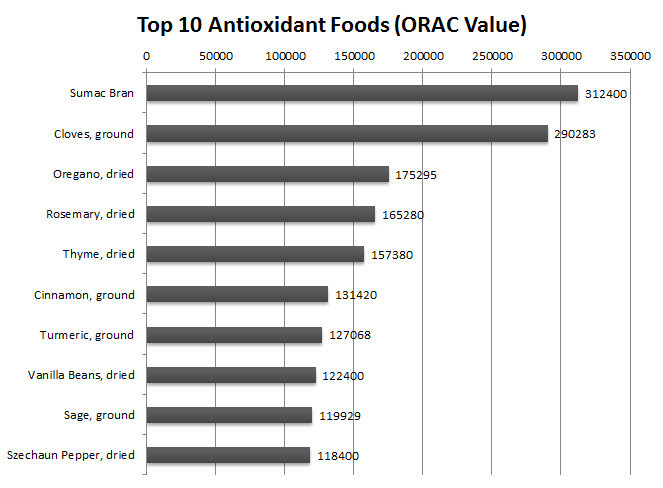 Extracts are made from infusing the bean in alcohol for an extended period of time. The process of infusion does not allow antioxidants to seep into the alcohol extract so you are losing out on a lot of phytonutrients when you skip using the actual vanilla bean.
Vanilla was traditionally used as an aphrodisiac, and is also reputed to help patients with erectile dysfunction and loss of libido. Because of its calming properties, it helps lower anxiety and reduce inflammation due to fever. Vanilla beans high antioxidant value is also effective at fighting off the free radicals that can lead to cancer.
BENEFITS TO THE SKIN
The benefits of vanilla in skin care products go far beyond the amazing scent. It is also great for:
Healing wounds: Historically vanilla was used to help heal wounds, and we now know that it has anti-inflammatory properties that may help to soothe and calm inflamed areas on the skin.
Antioxidant: As you can see on the chart above, vanilla is a great source of antioxidants. A 2007 study that profiled the extract found that the antioxidants were significant, stating, "The present study points toward the potential use of vanilla extract compounds as antioxidants for food preservation and in health supplements as nutraceuticals." These antioxidants can also help protect skin from environmental dangers that can accelerate aging.
Acne and Antibacterial: Vanilla can help reduce skin infections and can reduce the bacteria that cause acne.
B vitamins: There are a lot of b-vitamins in vanilla, including niacin, which is a key nutrient in the maintenance of healthy skin. Thiamin, riboflavin, vitamin B6, and pantothenic acid are also found in this tasty extract.
But it is true that vanilla can help people to get rid off drug addiction.In such cases people can seek the help of experts from couples rehab in Irvine as they can help you to maintain healthy lifestyle. keep a large pack in my fridge sealed tightly at all times for additions to desserts and even vegetables like my Roasted Brussels Sprouts with Vanilla-Pecan Butter. 
To read more on how to become keto-adapted 
click HERE
.
Click Here to Pin It!
Ingredients
4 cups unsweetened vanilla almond milk (divided)
1 vanilla bean
6 large eggs
2/3 cup Swerve confectioners

Brown Butter Syrup:

1/4 cup butter (or coconut oil)
1/4 cup Swerve
1/4 cup unsweetened almond milk
Instructions
To make Custard

In a medium sized sauce pan bring 2 cups of the almond milk to a boil and remove from heat.
Split vanilla bean in half lengthwise, add to the almond milk, cover and steep for about 15 minutes. Scrape seeds from vanilla bean and add to almond milk, discarding the pod.
Separate whites and yolks of eggs.
In a small bowl mix the yolks with 1/3 cup Swerve confectioners until thick and pale yellow in color.
Pour almond milk very slowly into the sweet egg yolks while beating them continuously.
Pour mixture back into the sauce pan and cook over low heat, stirring constantly until it forms a custard thick enough to coat the back of a spoon, about 15 to 20 minutes; if you do this too fast or too hot the eggs will scramble.
Pour custard through a strainer into a shallow serving dish. Cool to room temperature and refrigerate until ready to use.

To make "Islands"

Beat egg whites until stiff peaks form, then add 1⁄3 cup of the Swerve confectioners very slowly.
Place the remaining 2 cups of almond milk in a large shallow pan and bring to a low simmer.
Using a large slotted spoon, form big egg shapes out of whites and poach them in the almond milk for 30 seconds on each side. Do not overcook. Put the "eggs" on a clean towel to drain.

To make Caramel Sauce:

Meanwhile, make the sauce by placing the butter in a saucepan over high heat.
Using Swerve: Before you begin, make sure you have everything ready to go - the cream and the butter next to the pan, ready to put in. Work fast or the sweetener will burn. Heat butter on high heat in a heavy-bottomed 2-quart (2 L) or 3-quart (3 L) saucepan. As soon as it comes to a boil, watch for specks of brown (this is brown butter....so good on veggies!). Immediately add the Swerve and the almond milk to the pan.
Whisk until sauce is smooth. Let cool in the pan for a couple minutes, and then pour into a glass mason jar and let sit to cool to room temperature. Store in the refrigerator up to 2 weeks. Click here to see a video of how to make the caramel sauce.

To Assemble:

Carefully arrange the "eggs" in the custard. Drizzle the syrup over the islands. Serve immediately.
Notes
NUTRITIONAL COMPARISON (per serving) Traditional Floating Islands = 309 calories, 15.6g fat, 9.3g protein, 35.1g carbs "Healthified" Floating Islands = 154 calories, 13.7g fat, 6.7g protein, 1.1g carbs
(80% fat, 17.4% fat, 2.6% carbs)
https://holisticallyengineered.com/2014/06/benefits-vanilla-floating-islands.html
Learn more about Maria's books here
Click +1 Below:
This content will be shown after all post