This content will be shown before all post
This past weekend, my family and I were in Connecticut visiting with some of our other family.  It was so nice to get to visit with everyone especially since we don't get to see them very often.  So what does this have to do with Green Fries?  Well, while we were in Connecticut my Mom and I went to a restaurant that had "Green Fries" on the menu. My first thought was that these Green Fries were some kind of processed concoction where the fries were made from vegetables, but really had a million ingredients added to it.  Our waitress quickly informed us that the Green Fries were actually just green beans.  The great thing about the Green Fries was that the green beans were cooked through, but still crispy so they have the crunch like french fries without all of the carbs.  It was a fun presentation when it came out on the plate in a fry basket and we could easily dip the Green fries in a dipping sauce.  It was so good!  Nice and salty…just like fries too.  My Mom, immediately said, "You have to put this on your blog."  So of course, when I got back home I had to recreate the Green Fries.
I don't know about you, but I'm always looking for new side dishes and fun ways to enjoy veggies.  This was a great spin on a veggie I have quite often!
Click Here to Pin It!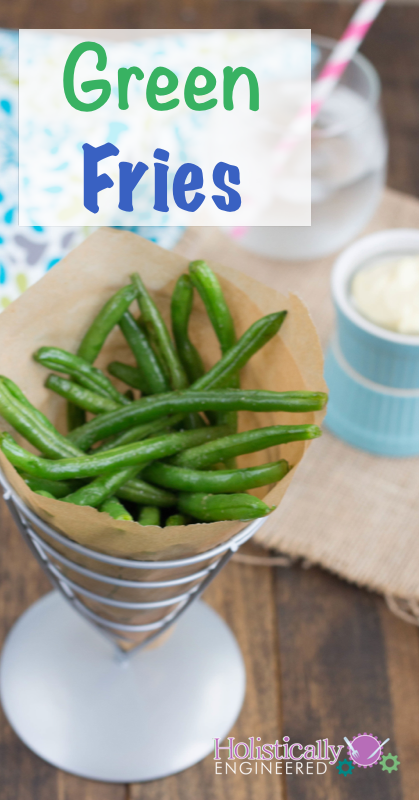 Green Fries (Low Carb and Paleo)
Ingredients
Instructions
Lightly steam (about 2 minutes) the green beans using your preferred method.
Heat the coconut oil in a large skillet over medium-high heat.
Sauté the green beans for 1 - 1 and half minutes until cooked, but still crispy.
Serve in a fry basket with a dipping sauce of your choice (my favorite is ranch dressing)
https://holisticallyengineered.com/2014/06/green-fries-low-carb-paleo.html
Click +1 Below:
This content will be shown after all post