This content will be shown before all post
I love when I walk into my home and the rooms smell so fresh and clean.  It really is a nice feeling.  I used to fill my rooms with air fresheners and vacuum at least once a week with a carpet deodorizer.  That was the best way to fill the room with a nice refreshing sent.  The problem with those store bought carpet deodorizers is that the manufactures add "fragrance"  which is a way of adding undisclosed chemical scents and ingredients (learn more here).
In the last year or so, I've been slowly trying to become aware of the products I'm using on my body as well as what I'm using in my home.  I like to make sure I know exactly what ingredients are in the products I'm using and that nothing is hidden under the label "fragrance."  I don't always make homemade, but when something only uses two ingredients and is actually cheaper to make it definitely makes me want to stick to making it at home.
I use therapeutic grade essential oils because of Seed to Seal quality guarantee (learn more here) and knowing that the oils haven't been mixed with other ingredients or "fragrances."  I started with the Premium Starter Kit which allowed me to try out 11 of the different essential oils.
Click Here to Pin It!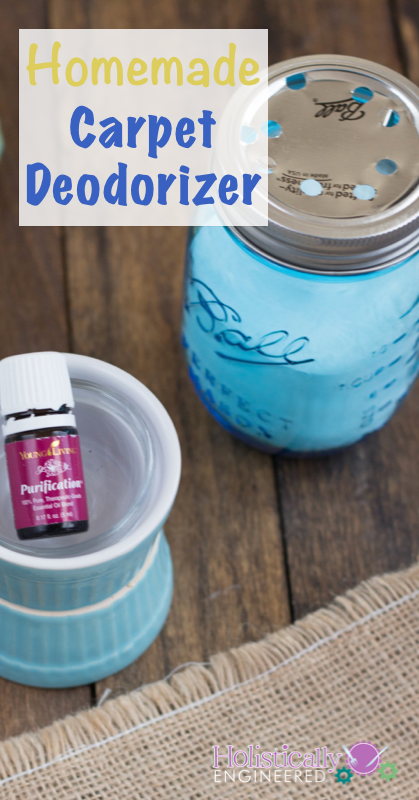 Homemade Carpet Deodorizer
Ingredients
1 1/2 cups baking soda
10 drops essential oils (I use a mix of Purification and Lemon)
Mason jar with lid I used these
Hole punch I used this kind
Instructions
In a bowl, combine the baking soda and essential oils.
Stir to combine and place the mixture in a mason jar.
Using a hole punch, punch 5-8 holes in the lid of the mason jar.
Place the lid of the jar and seal the cap.
Sprinkle the mixture lightly on carpet. Let sit for 5-8 minutes and then vacuum up the mixture.

Always test a small area before using in an entire room.

I store my remaining mixture in a dark space with a regular lid (no holes)
https://holisticallyengineered.com/2014/06/homemade-carpet-deodorizer.html
Click +1 Below:
This content will be shown after all post