This content will be shown before all post
When I posted my latest giveaway the other day, you probably thought "Lemon Essential Oil and an Ice Cream Maker…that's on odd combination!"  Well, hopefully this latest recipe helps explain it.  For awhile now, I have been looking for natural flavorings that I could add to recipes that would still be low carb, but were also paleo.  I wanted to be confident in knowing how the flavorings were made and that they contained all natural ingredients.  I ended up at my local health food store, only to realize that the oils weren't safe for ingestion.  Bummer!
Ultimately, I made the decision I felt comfortable with, but you can read some of my reasonings below.  In the mean time, you can enjoy some yummy sherbet with or without the essential oil (just add more lemon juice if you aren't using essential oil).
Also, don't forget to enter the Ice Cream Maker + Lemon Essential Oil giveaway here!
Why I Only Use Young Living Therapeutic Grade Essential Oils
Truly Pure–other essential oils labeled as "100% pure" can contain synthetic forms of the oils or residual chemicals/other ingredients leftover from processing and are not safe for ingestion (which is why they are marked as "Do Not Ingest")
Processed at low temperatures and low pressures to maintain the therapeutic benefits of the oils
Seed to seal garantee–grown on organic farms and the quality is closely monitored to ensure purity and potency of the oils.
If you'd like to learn more about essential oils, feel free to join our Essential Oils Facebook community here.
Click Here to Pin It!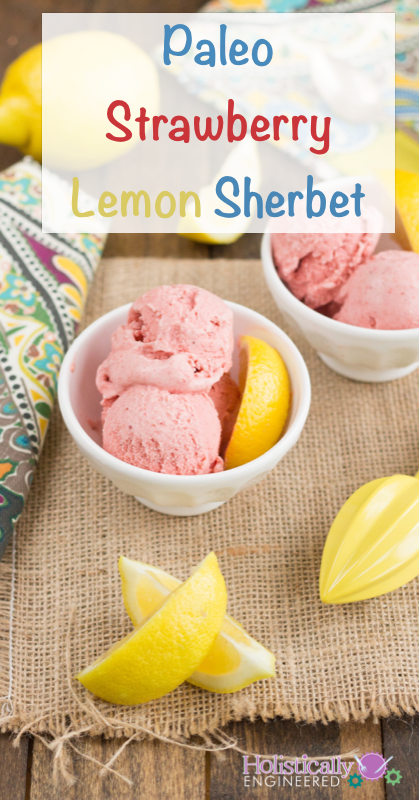 Strawberry Lemon Sherbet (Paleo and Low Carb)
Ingredients
16 oz. strawberries, trimmed
Juice 1 lemon
1/4 cup water
1/2 cup coconut milk (or heavy cream for low carb)
1/4 cup coconut sugar (or Swerve for low carb)
1-2 drops Young Living Lemon Essential Oil (Get started with essential oils here)
Instructions
Place all the ingredients in a blender and blend until smooth.
Pour the mixture into the bowl of an ice cream maker and process according to manufacturer's directions.
Serve immediately for soft serve or freeze for 1-2 hours or until set.
https://holisticallyengineered.com/2014/06/paleo-strawberry-lemon-sherbet.html
Click +1 Below:
This content will be shown after all post