This content will be shown before all post
Every year I like to celebrate Fourth of July with a fun red, white, and blue dessert.  This year I wanted to keep it simple and I wanted it to be a no bake Fourth of July dessert.  I'm definitely not turning on my oven in this heat!  It's a great way to enjoy the delicious flavors of  the in season beautiful red raspberries and blueberries.  The whipped cream (or coconut cream for Paleo) adds a touch of sweet creaminess to the dessert.
It's also easy to make ahead of time and in individual servings to make it an easy to handle party dessert.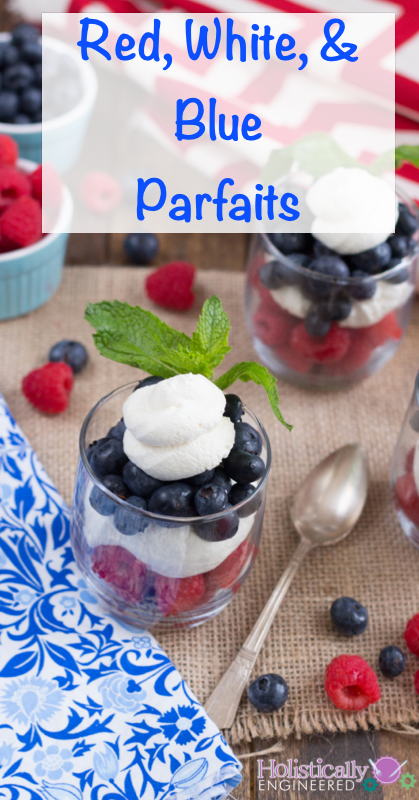 Red, White, and Blue Parfaits (Low Carb and Paleo)
Ingredients
1 cup heavy cream (or 2 cups of coconut cream)
2 Tbsp maple syrup (or powdered Swerve for low carb)
1/2 tsp vanilla extract
(Optional) 1 drop of Young Living Lemon or Orange essential oil (Get essential oils here)
1 pint of red raspberries
1 pin of blueberries
Instructions
Add the heavy cream* (make sure it is cold) to the bowl of a cold mixing bowl
Beat on medium-high speed until fluffy (about 2-3 minutes).
Add the sweetener, vanilla, and essential oil (if using) and mix to incorporate.
Layer the raspberries in the bottom of 4 clear cups or glasses.
Add a layer of the whipped cream or coconut cream.
Finish with a layer of blueberries and top with additional whipped cream or coconut cream, if desired.
*Also works for coconut cream, but won't need to be mixed as long.
https://holisticallyengineered.com/2014/06/paleo-fourth-of-july-dessert.html
Click +1 Below:
This content will be shown after all post