This content will be shown before all post
I've been obsessed with cheesecake lately…it's so rich and creamy!  Plus when it's paired with fresh summer berries like strawberries, blueberries, and raspberries it makes a delicious dessert.  It's definitely a perfect combination!  For this recipe I ended up using blueberries, but raspberries or chopped strawberries would work great in this recipe too.
I wanted to be able to portion out the servings a little better so I didn't go overboard.  These no bake cheesecake bites ended up making a perfect serving.  It worked great and I rolled them in chopped nuts to make a little crust.  I started out by letting them thaw a little bit before eating, but I actually like them slightly frozen too.
Click Here to Pin It!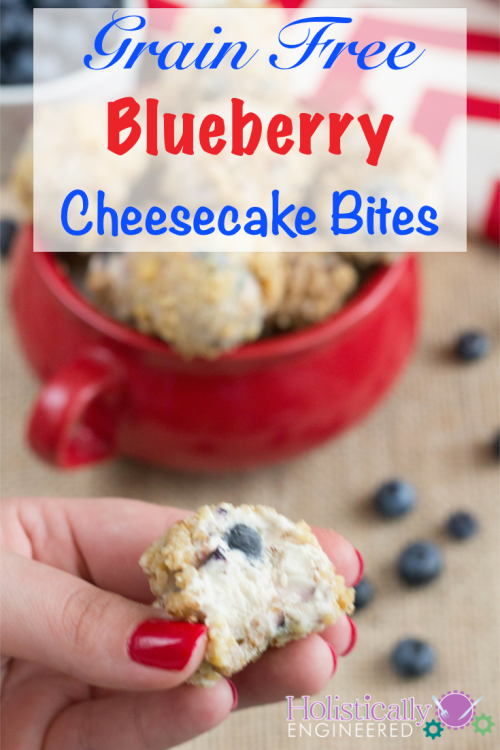 Grain Free Blueberry Cheesecake Bites
Ingredients
For the Cheesecake

8 oz. cream cheese, softened
1 1/2 cups heavy cream
1/4-1/2 cup powdered Swerve (low carb) or honey for Primal, sweeten to taste
1 1/2 tsp vanilla extract
1 pint of blueberries (or berry of your choice)

For the Coating

2 1/2 cups of mixed nuts (I used a mix of almonds, pecans, and walnuts)
(Optional) 1-2 Tbsp granular Swerve (low carb) or coconut sugar, sweeten to taste
1/2 tsp cinnamon
Instructions
For the Cheesecake

Beat the cream cheese with the sweetener on medium speed until smooth (about 2 minutes)
After scraping sides of the bowl, add the the cream and vanilla and whip (I used a whisk attachment on my mixer) on medium speed until light and fluffy (about 1.5 minutes).
Add the blueberries and mix for 30 seconds to 1 minute to incorporate and break up the blueberries a bit.
Pour the cheesecake into a loaf pan and freeze for 2-2.5 hours or until set and hardened.

For the Coating

While the cheesecake is freezing, in a high speed blender or food processor, blend the mixed nuts, sweetener, and cinnamon until finely ground (careful not to over mix).
Spread the nut mixture in an even layer onto a plate
Once the cheesecake mixture is set, use a small cookie scoop to scoop out the mixture.
Roll the scoop into the nut mixture and coat evenly.
Repeat Steps 7 and 8 for the rest of the cheecake mixture. If the cheesecake mixture starts to get too loose, return the mixture to the freezer.
Place the coated cheesecake bites in the freezer for about 1 hour to set.
Thaw for a few seconds before serving. Serve very cold.
https://holisticallyengineered.com/2014/07/no-bake-blueberry-cheesecake-bites.html
Click +1 Below:
This content will be shown after all post