This content will be shown before all post
So you've probably notice I've been into essential oils lately.  I was chatting with the Holistically Engineered Essential Oils Facebook community about my reasons for getting into essential oils which was because of the gut healing and hormone balancing support and to also replace some of the toxic beauty and cleaning products I was using.  But oddly enough, at first my biggest reason was to have a pure flavoring that was both low carb and paleo to be able to use in recipes.  I'm always developing new recipes and I try and stay low carb so I don't have to deal with the crazy blood sugar spikes.  I know how hard it is to keep the carbs low, but still enjoy great flavor…especially from things like oranges.  Quality was also an important factor in determining which essential oil I was going to use for recipes.  The first thing I wanted to do was make ice cream!  It worked great!  I was used to the fake syrups and extracts from my non-paleo days that are synthetic, taste nothing like orange, and usually have disgusting aftertastes.  The Orange essential oil was nothing like that.  It tasted just like I was eating an orange creamsicle! And if you don't have an ice cream maker you can turn it into popsicles instead.
Click Here to Pin It!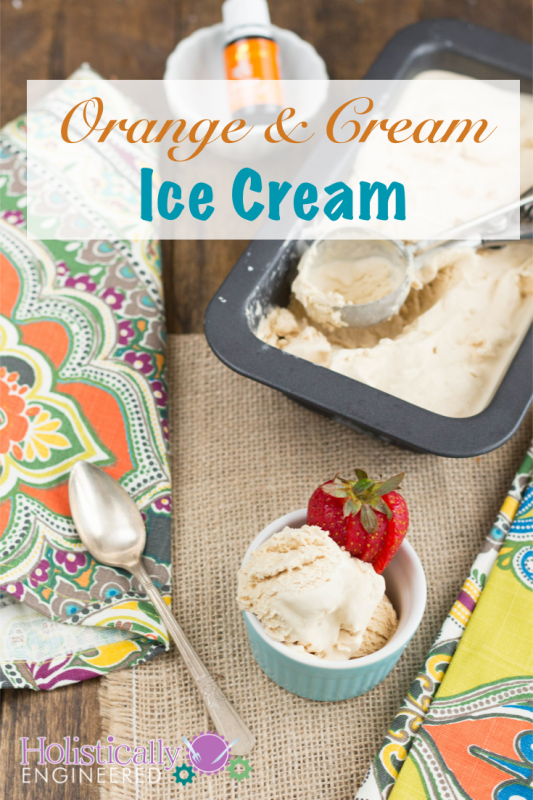 Ingredients
3 cups heavy cream or coconut milk
1/2 cup powdered coconut sugar, sweeten to taste (or use powdered Swerve + 1 tsp blackstrap molasses for low carb)
1 tsp vanilla extract
5-10 drops quality Orange Essential Oil
Instructions
Place the coconut milk (or heavy cream), sweeter, and vanilla in a blender and blend to combine.
Add the Orange Essential Oil and blend to incorporate (start with 5 drops and increase by 1 drop until the desired flavoring is reached).
Pour into the bowl of an ice cream maker and process according to manufacter's directions.
Serve immediately for soft serve or freeze for 1-2 hours or until set.
https://holisticallyengineered.com/2014/07/orange-cream-ice-cream-low-carb-paleo.html
Click +1 Below:
This content will be shown after all post