This content will be shown before all post
Last week I picked up my usual bag of veggies and as I was driving home I could smell the sweet scent of cantaloupe.  In addition to my veggies, I had gotten a perfectly ripe cantaloupe in my CSA bag and I knew I had to use it right away.  I had made cantaloupe sorbet before which is pretty easy, but this time I wanted to make something a little different.  I came across this Cantaloupe Custard from good ole Martha and I figured I could make a Paleo version pretty easily.
The cantaloupe was so ripe that I didn't even need to add any extra sweetener to it.  A perfect, no bake summer dessert!
Click Here to Pin It!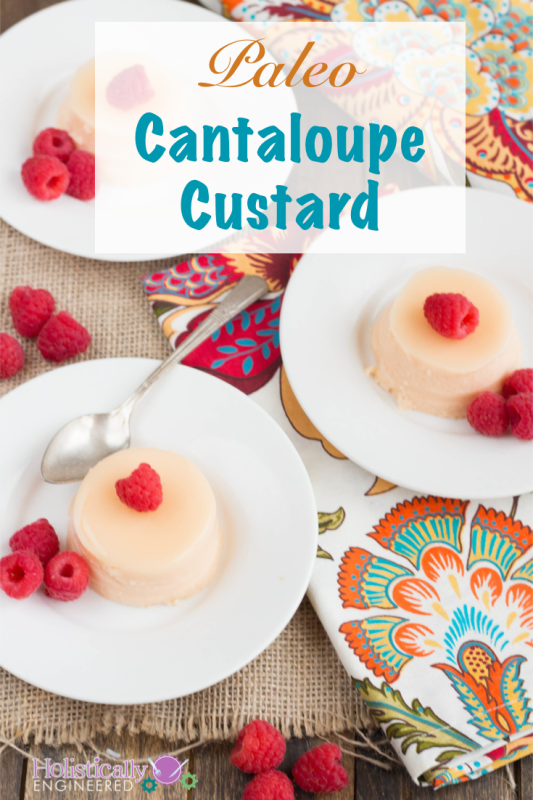 Ingredients
Instructions
Place the cantaloupe in the bowl of a blender and blend until smooth.
Strain the cantaloupe puree through a fine mesh strainer into a large bowl (preferably one with a pour spout)
Pour 1/2 cup of the cantaloupe puree into a small bowl and sprinkle the gelatin on top. Allow to sit for 5 minutes.
Add lemon juice or YL Lemon Essential Oil to the large bowl with the remaining cantaloupe puree and stir to combine.
Heat the coconut milk and honey (if using) over medium heat and add the cantaloupe/gelatin mixture and whisk until the gelatin has dissolved.
Add the coconut milk mixture to the cantaloupe puree and whisk to combine.
Pour the mixture into 6-8 (depending on size) ramekins and refrigerate until set, about 2 hours - overnight.
To unmold, run a small knife around the edges of the ramekin and turn the ramekin onto a serving plate. Shake the ramekin to release the custard. If the custard still won't come out, run hot water on the bottom of the ramekin for 3-5 seconds (carefully not to get water on the custard) and then invert onto a plate.
https://holisticallyengineered.com/2014/07/paleo-cantaloupe-custard.html
Click +1 Below:
This content will be shown after all post