This content will be shown before all post
Raspberries are in season right now in South Carolina so when the raspberries showed up in my CSA I wanted to make an easy summer dessert that was light and refreshing.  Earlier this year I made yummy Lemon Meringue Cookies made with Lemon Curd so naturally I needed to make a Lime Curd this summer.  I was also able to reduce the carbs by using Lime Essential Oil so it's basically a delicious fat bomb full of health fats from egg yolks and butter/ghee.
Of course it is possibly to make it without the essential oils by replacing the Lime EO and water with another 1/4 cup of lime juice.
Click Here to Pin It!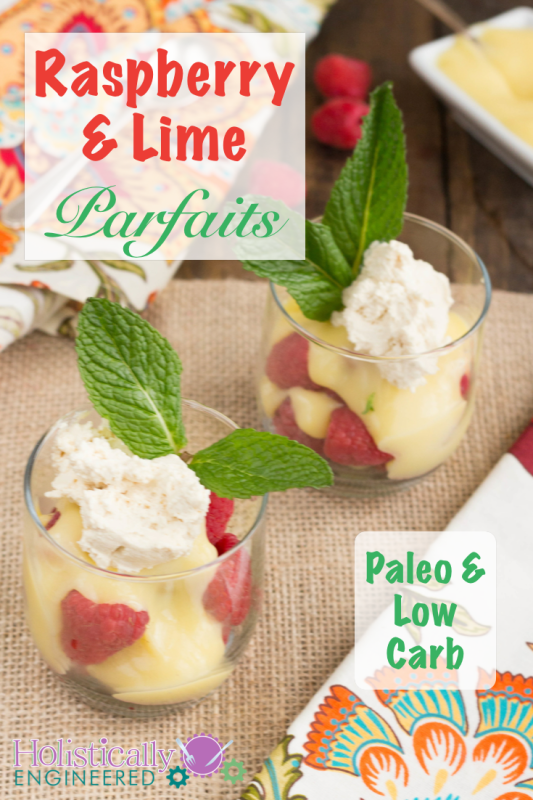 Raspberry & Lime Parfaits (Paleo and Low Carb)
Ingredients
Instructions
In a medium saucepan, whisk together lime juice, zest, water, sweetener, eggs, and egg yolks.
Add the butter and place over a medium low heat.
Cook the mixture until the butter has melted stirring continuously, about 5-7 minutes.
Once the mixture has thicken, remove it from the heat and strain it through a fine mesh strainer into a medium bowl.
Cover the curd directly and refrigerate until cooled.
Once cool, add the YL Lime Essential Oil 1-2 drops at a time until the desired flavor is reached.

For the Parfaits

Place a handful of raspberries in the bottom of a serving dish and spoon lime curd over the raspberries.
Repeat with another layer of raspberries and then another spoonful of lime curd.
Top with whipped cream or coconut cream, if desired.
https://holisticallyengineered.com/2014/07/paleo-raspberry-lime-parfaits.html
*Not intended as medical advice.  Always consult a medical professional before changing diet, supplements, etc.
Click +1 Below:
This content will be shown after all post