This content will be shown before all post
For some reason there is something about summer that just makes me obsessed with lemon.  The bright, citrus flavor is just great during the summer.  I decided to make a lemon cheesecake frosting for cupcakes….the perfect summer dessert!  The cupcakes act like the crust of the cheesecake so they make a great pairing.  Not a fan of lemon?  You can fold in some puréed strawberries or blueberries into the cream cheese instead of the lemon curd.  Want to have even less carbs?  Eat the frosting with the spoon 🙂  Seriously….it's so good!
Click Here to Pin This Post!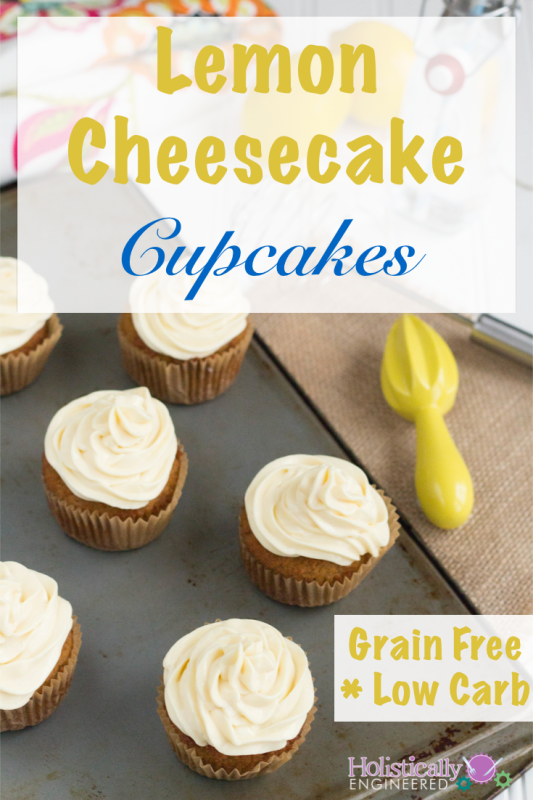 Lemon Cheesecake Cupcakes (Grain Free and Low Carb)
Ingredients
For the cupcakes

8 Tbsp butter or ghee
1/2 cup coconut sugar (or Swerve for Low Carb)
6 large eggs
1 tsp vanilla
1/2 cup coconut flour
1/2 tsp baking soda
Pinch of salt

For the Lemon Cheesecake Frosting

8 oz. cream cheese, softened
2 Tbsp maple syrup (or Confectioner's Swerve for low carb]
1/2 cup Lemon Curd (get the recipe here)
Instructions
For the Cupcakes

Preheat oven to 350 F.
In a mixing bowl, mix the butter/ghee and the sweetener over medium speed until smooth and creamy.
Add the eggs and mix to combine.
Add the vanilla and stir to incorporate.
In a separate bowl, combine the coconut flour, baking soda, and salt.
Add the dry ingredients to the wet and mix to incorporate.
Using a large scoop, scoop the mixture evenly into a muffin tin lined with 6 muffin liners.
Bake for 20-25 minutes or until cooked through. (If the muffins start to get too dark, cover with parchment paper and continue cooking until cooked through).
Let cool for 1 hour before frosting.

For the Lemon Cheesecake Frosting

In a mixing bowl, beat the cream cheese, sweetener, and vanilla on medium speed until smooth.
Fold in the lemon curd until combined.
Frost the cupcakes with the frosting.
https://holisticallyengineered.com/2014/08/lemon-cheesecake-cupcakes.html
Click +1 Below:
This content will be shown after all post