This content will be shown before all post
It's nice to have a few different options for holiday desserts.  Some people like the traditional pies that are usually served during the holidays, but some people (like me) love cookies.  Cookies make a great addition to the holiday table, especially with the seasonal flavors like ginger and cinnamon.  And the good news is that if you love pie, you can grind some of these Ginger Snap Cookies in a food processor to make a delicious no bake pie crust.  The molasses adds a deep flavor, but since a small amount is used (over 24 cookies) it doesn't drastically increase the carb count.
Click Here to Pin It!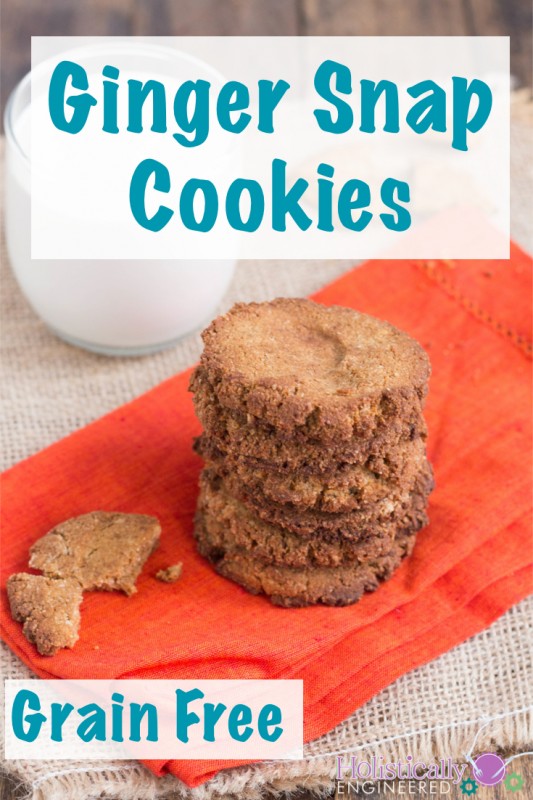 Ginger Snap Cookies (Grain Free)
Ingredients
2 cups almond flour
3 Tbsp coconut sugar (or Swerve for low carb)
1/4 teaspoon sea salt
1/4 teaspoon baking soda
1 teaspoon cinnamon
1 Tbsp fresh ground ginger
1 large egg
1 Tbsp unsulphered blackstrap molasses
6 tablespoons unsalted butter, melted (or ghee or coconut oil)
Instructions
Preheat oven to 350 F.
Mix the almond flour, coconut sugar (or Serve), sea salt, baking soda, cinnamon, and ginger.
Mix the egg, molasses and butter in a separate bowl.
Add the wet ingredients to the dry ingredients and mix to combine.
Scoop onto a parchment lined baking sheet and flattened with the palm of your hand (makes 24 cookies).
Bake for 7-10 minutes or until browned.
https://holisticallyengineered.com/2014/11/ginger-snap-cookies-grain-free.html
Click +1 Below:
This content will be shown after all post