This content will be shown before all post
When I think of Thanksgiving cranberries are always a part of the food celebration.  As I kid, I remember opening the can of gelled cranberry sauce.  When I think about it now, it's kinda a gross, but I loved the taste of it.  Making cranberry sauce with fresh cranberries is so easy and it tastes even better.  I haven't tried it yet, but if you're a fan of the cranberry jelly from a can, you can easily make your own with some grassfed gelatin and without all of the sugar.  Oven space is also at a premium when preparing a Thanksgiving meal so I like to have some no bake dessert options.  No bake cheesecake is so easy to make and when I top it with homemade cranberry sauce it's a perfect match.  For this recipe I had some leftover Grain Free Ginger Snap Cookies so technically there is baking involved (days in advance), but if you want it completely no bake you can use a nut crust.
I want to thank you for following along with my blog and my journey.  You all inspire me to keep up with my diet and lifestyle changes and I'm truly grateful for that.  I want to wish you a Happy Thanksgiving and a wonderful holiday season.
Click Here to Pin It!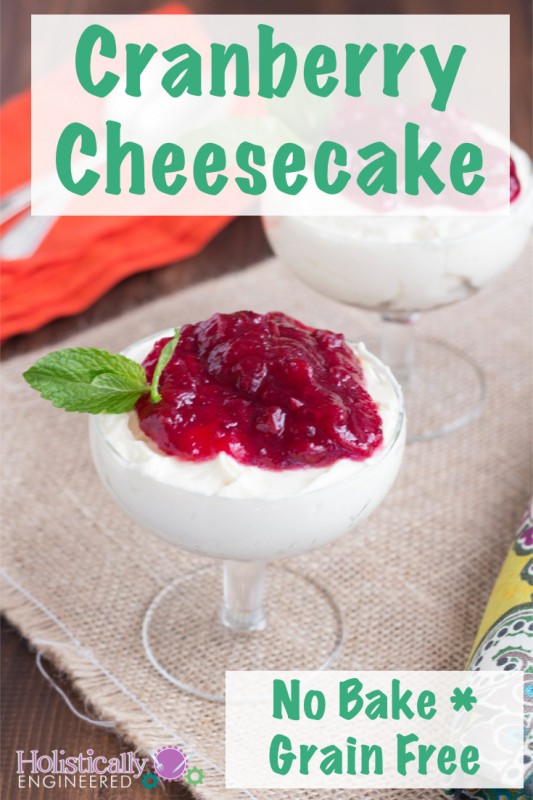 No Bake Cranberry Cheesecakes
Ingredients
For the Crust

4 Grain Free Ginger Snap Cookies (the recipe is here or use the nut crust from this recipe)

For the Cheesecake

8 oz. cream cheese, softened
1 1/2 cups heavy cream
1/4-1/2 cup powdered Swerve (for low carb--sweeten to taste) or honey for Primal
1 1/2 tsp vanilla extract

For the Cranberry Topping

12 oz cranberries
1 cup water
1 cup of coconut sugar or Swerve for low carb
1 Tbsp orange juice
2 tsp orange zest (zest of about half an orange)
Instructions
For the crust

In a high speed blender or food processor, blend the ginger snap cookies until finely ground.
Place 1/4 of the cookie crumbs into the bottom of a small bowl or glass.
Repeat with 3 other bowls/glasses.

For the cheesecake

Beat the cream cheese with the sweetener on medium speed until smooth (about 2 minutes).
After scraping sides of the bowl, add the the cream and vanilla and whip (I used a whisk attachment on my mixer) on medium speed until light and fluffy (about 2 minutes).
Divid the mixture evenly among the four bowls/glasses.
Top with the cranberry topping below.

For the cranberry topping

Bring the water, sweetener, orange juice, and zest to a boil over medium-high heat.
Add the cranberries and reduce the heat to medium.
Cook for about 7-10 minutes or until the cranberries have popped open.
Make sure to stir frequently once you add the cranberries.
Allow to cool before topping with the desired amount on each cheesecake.
https://holisticallyengineered.com/2014/11/no-bake-cranberry-cheesecakes-grain-free.html
Click +1 Below:
This content will be shown after all post