This content will be shown before all post
Yesterday was my 3 year blogiversary!  Wow, it's so hard to believe that over 3 years ago I started my journey to health and then decided to document my recipes and journey through this blog.  What started out as a little hobby to fill some free time and to have a place to store recipes ended up turning into a huge passion for learning all that I can about food and natural living to improve health and wellness.  It's an honor to be a part of your journey and I sincerely hope that I have helped along the way.
There's no better way to celebrate a blogiversary (or New Years) than with Bacon Wrapped Smokies.  It makes a great appetizer and the sweet and salty combinations pairs well together.
Click Here to Pin It!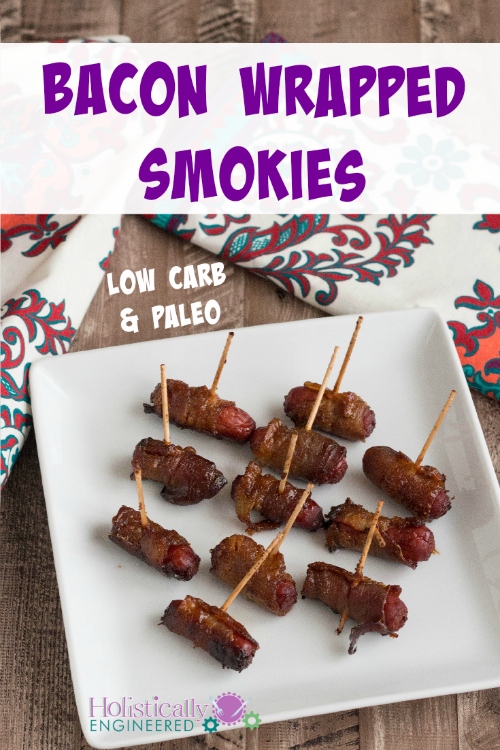 Bacon Wrapped Smokies (Low Carb and Paleo)
Ingredients
12 oz cocktail franks (I use the Applegate farms brand)
1 lb pastured bacon (each piece cut into thirds)
1 cup coconut sugar or Homemade Brown Sugar (recipe here for low carb)
Toothpicks
Instructions
Preheat oven to 325 F.
Line a baking sheet with a silpat mat or foil.
Wrap a small piece of bacon around one of the cocktail franks and secure with a toothpick.
Repeat with the remaining cocktail franks.
Coat the bacon wrapped cocktail franks with coconut sugar and place on the baking sheet.
Bake for 30-40 minutes or until the bacon is cooked through.
Place in a crockpot to keep warm for serving at parties.
https://holisticallyengineered.com/2014/12/bacon-wrapped-smokies.html
This content will be shown after all post