This content will be shown before all post
I love being crafty!  It's so fun to be able to use common ingredients and turn them into something practical…like Christmas ornaments. You can turn them into whichever space you love for the holiday season.  I went with gingerbread men shapes since that was the cookie cutters I had.   The best part is that these easy ornaments also double as essential oil diffusers too.  The house smells amazing with the cinnamon ornaments plus the added essential oils we get from GoldBee.com.  I did a few ornaments with Idaho Balsam Fir which pairs nicely with the cinnamon and it also has relaxation properties.  Another scent combination I love is Orange, Clove, and Nutmeg essential oils which helps inspire creativity and boost energy.  Ginger essential oil works well for the gingerbread man shape.  And Christmas spirit essential oil blend (a combination of orange, spruce, and cinnamon bark) also makes a great choice for putting me in the holiday spirit.  The scents lasts awhile and I just add more drops when the scent goes away.  I even use one ornament as a car air fresheners…it works great!
Click Here to Pin It!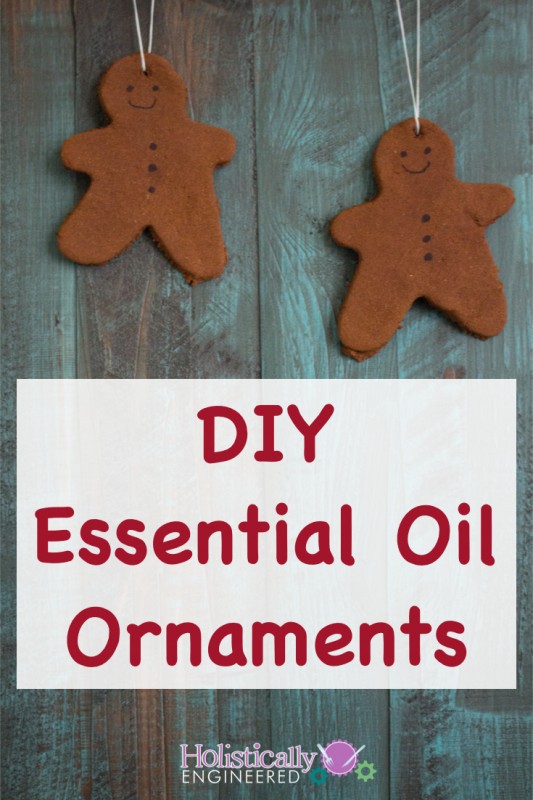 DIY Essential Oil Ornaments
Ingredients
1 cup applesauce
1 cup ground cinnamon
Essential Oils--Thieves, Ginger, Christmas Spirit, Orange, Nutmeg, Clove, or Idaho Balsam Fir (Get Essential Oils here)
Instructions
Preheat oven to 200 F.
In a mixing bowl add the applesauce and ground cinnamon. Mix on low speed.
Increase the speed to medium and mix until combined and a dough ball is formed.
Roll out the dough about 1/4" to 1/2" thick.
Use a cookie cutter to cut out desired shapes (i.e. gingerbread man, Christmas trees, etc).
Place the cut out shapes onto a parchment paper lined cookie sheet.
Poke a hole with a straw at the top (but not too close to the edge) to create the hole for the ornament hanger.
Bake for about 2.5 hours or until the shapes are dried out.
Allow to cool and add an ornament hanger or ribbon.
Drop 2-4 drops of the essential oil of your choice onto the back of the ornament. Refresh the essential oils as needed.
https://holisticallyengineered.com/2014/12/diy-essential-oil-ornaments.html
Click +1 Below:
This content will be shown after all post