This content will be shown before all post
With the holiday season in full swing there are lots of parties and celebrations going on.  It's always fun to share homemade recipes with family and friends..especially to let people know that going grain free (low carb and/or primal/paleo) doesn't have to be tasteless.  Most of the recipes filling my newsfeed are for sweet treats like cookies and pie.  And while I love the occasional (or maybe more than occasional if I'm not careful) sweet treat, it's nice to have a savory option to share at parties and get-togethers.  You've probably had the typical cheese ball appetizer that's usually served with crackers (back in the day) or veggies, but these mini cheese balls are bite sized options to easily share with others.  You can easily serve them alongside some veggies or a few homemade crackers, but they are great all on their own.
Click Here to Pin It!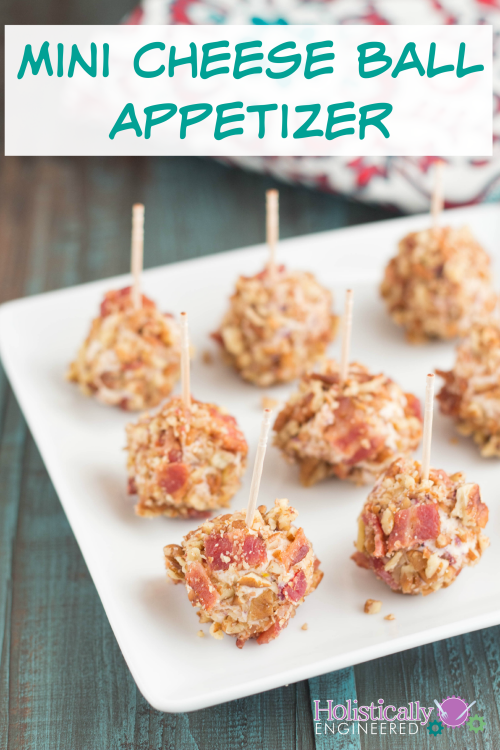 Mini Cheese Ball Appetizer
Ingredients
8 oz. cream cheese
8 oz. shredded white cheddar
Zest of 1 lemon
1 Tbsp fresh rosemary
1/4 tsp cayenne
1/4 cup dried cranberries
1/2 cup chopped pecans
1/2 cup diced cooked bacon pieces
Instructions
Place the cream cheese, cheddar cheese, lemon zest, rosemary, cayenne, and cranberries in the food processor and puree until smooth.
Cover the mixture and chill for at least 30 minutes.
In a bowl or on a plate combine the pecans and the bacon.
Using a small cookie scoop, scoop out a portion of cheese mixture into your hands and roll into a ball (makes 18 cheese balls). Then place the ball in the pecan/bacon mixture and gently roll the ball to evenly coat.
Repeat with the remaining cheese mixture and refrigerate for 30 minutes.
Stick a toothpick into the cheese balls and place onto a platter to serve. (Serve alongside veggies or homemade crackers, if desired)
Notes
https://holisticallyengineered.com/2014/12/low-carb-cheese-ball-appetizer.html
Click +1 Below:
This content will be shown after all post