This content will be shown before all post
I had so much fun making some DIY Essential Oil Ornaments that I wanted to experiment with some other fun DIY ornaments and gifts.  This time I made up a batch of relaxing bath salts using Lavender essential oil and poured it into a glass ornament (P.S. I used a funnel to fill the ornament).  It's so cute and the epsom salt makes it look like snow inside the ornament.  I had intended to fill the ornament a little more, but it made the ornament too heavy to actually be able to hang it on a tree so I cut it down to 1/2 a cup and it worked perfectly. My glass ornament was already decorated on the outside, but you could get a plain glass ornament and maybe paint or draw a snowman face on the outside.  So cute!  I hope you have fun with it!
Click Here to Pin It!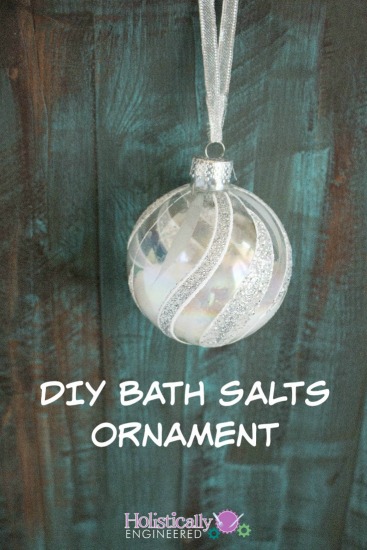 DIY Gifts–Bath Salts Ornament
Ingredients
1 glass ornament
1/2 cup epsom salt
5 drops Lavender essential oil (I get my quality essential oils here)
Instructions
In a small bowl, add the epsom salt and Lavender essential oil. Stir to combine.
Open the glass ornament and fill with the bath salt mixture.
Make a gift tag or note explain how to use the bath salts.

How To Use the Bath Salts

Add the bath salts to warm running bath water or to a foot soak basin.
Soak and enjoy the relaxing scent.
https://holisticallyengineered.com/2014/12/diy-gifts-bath-salts-ornament.html
Click +1 Below:
This content will be shown after all post