This content will be shown before all post
I usually get all my meat from a local farm that has grassfed beef plus pastured chicken, pork, and turkey. It's so convenient to be a part of the "meat share" and each month and I pick up the meat at the farmer's market once a month.  It's already packaged and I store it in my freezer, then the next month I pick up my next batch of meat.  This has been a great opportunity to not only get quality meat and support my local farmers, but also to try some different cuts of meat that I might not normally eat.  I've had boneless pork loin many times, but I had never actually roasted a whole bone-in pork loin roast before. I was excited to see it in my meat selection this month and I wanted to created a delicious herb crust to flavor the pastured pork.   It was so easy to make and the herb crust was fantastic.  You could use the same herb crust on one of your favorite cuts of meat…just adjust the cooking time.  Another bonus for me is that the crust is a great Low FODMAP option.
Click Here to Pin It!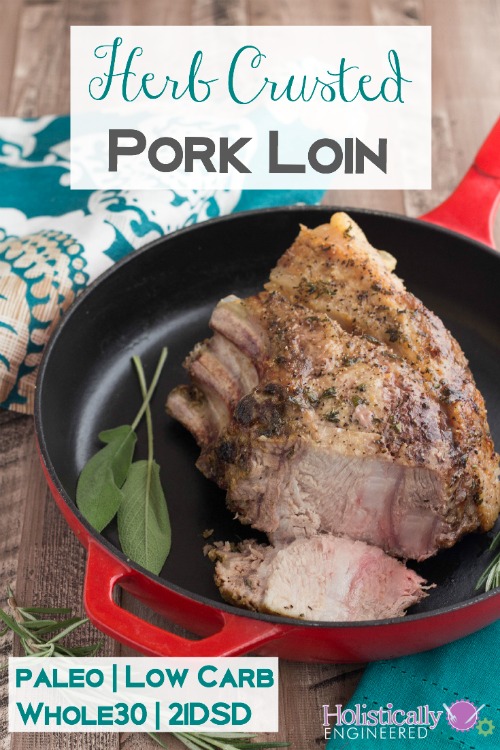 Herb Crusted Pork Loin (Low Carb and Paleo)
Ingredients
3 lb pork loin roast
2 Tbsp garlic infused olive oil (regular works too)
2 tbsp minced fresh herbs (I use rosemary, thyme, and sage)
1/2 tsp Real salt
1/2 tsp black pepper
Instructions
Preheat oven to 425 F.
Place the pork loin roast in a baking dish on top of a rack.
In a small bowl, combine the olive oil, minced herbs, salt, and pepper.
Coat the pork loin roast on all side with the herb mixture.
Roast for 30 minutes and then reduce the heat to 325 F and roast until it reaches the correct temperature (about 20-30 minutes)
https://holisticallyengineered.com/2015/01/herb-crusted-pork-loin.html
This content will be shown after all post