This content will be shown before all post
Today is Day 8 of our 30 Day Clean Eating Challenge.  So far so good for me and while my diet normal consists of clean low carb and paleo eating, I had indulged on a little too many grain free treats over the holidays.  Plus I'm trying to get rid of SIBO so it's best for me to eat a sugar/sweetener free and low FODMAP diet right now.  When I'm on such a restrictive diet I tend to keep my meals very simple so I don't introduce too many food variables that my body can react to.  After awhile it can get a little boring so lately I've been experimenting with some new recipes.  These Spiced Chicken Wings are marinated in a spice mixture and makes a flavorful wing.  The wings still get super crispy even though they are baked and would make a great addition to any of the end of the season football parties you have.  No need to wreck your diet…these have clean ingredients!
Click Here to Pin It!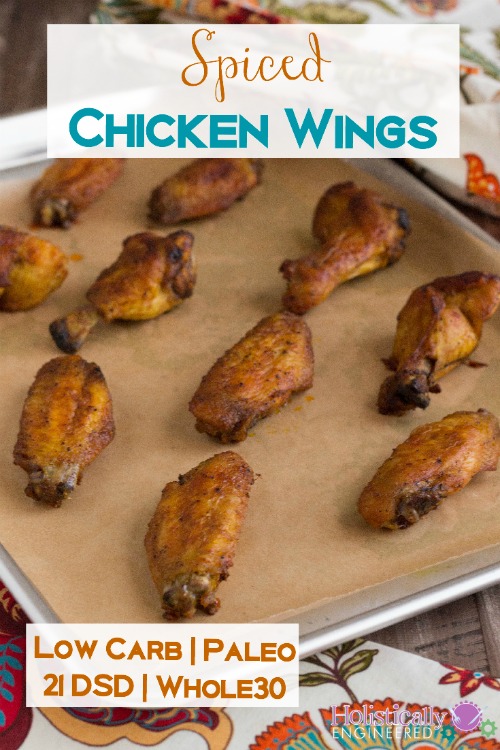 Spiced Chicken Wings (Low Carb and Paleo)
Ingredients
8-10 wing sections, cut into pieces
1/4 cup garlic infused olive oil (regular will work too)
1 1/2 tsp cumin
1 tsp paprika
1 tsp real salt
1/2 tsp black pepper
1/2 tsp turmeric
1/2 tsp hot paprika
Instructions
In a small bowl, add the olive oil, cumin, paprika, salt, pepper, turmeric, and hot paprika and stir to combine.
Place the chicken pieces into a resealable bag and add the spice mixture.
Seal the bag and spread the spice mixture evenly over all the chicken pieces.
Let marinate for about 6 hours.
Preheat the oven to 400 F.
Place the wings skin side down, in a single layer on a lined baking sheet.
Bake for 20 minutes and flip the wings over and bake for another 20-25 minutes or until golden brown and cooked through.
https://holisticallyengineered.com/2015/01/spiced-chicken-wings-paleo.html
This content will be shown after all post