This content will be shown before all post
It's been about a year and half since I first started oil pulling.  Admittedly I was skeptical at first, but my teeth were in such bad shape that I was willing to try anything.  Once I started oil pulling I noticed less sensitivity and my teeth were naturally whiter.  Now I love it and oil pull everyday! Oil Pulling is a great way to ditch the dyes, artificial flavorings, SLS, fluoride, and triclosan found in commercial oral care products. During February, we are going to have an Oil Pulling Challenge for those that have been wanting to try it, but haven't taken the step yet. Join us here.
What is Oil Pulling?
Oil pulling is an ancient Indian cleansing technique of taking 2-3 teaspoons of cold-pressed vegetable oil and swishing it around in your mouth for 15-20 minutes. You then spit out into the trash can, rinse out mouth, and brush if you'd like. The enzymes in the fat that is in vegetable oil helps pull out the toxins and cleanse the teeth.
When done daily, oil pulling can support healthy gums and dental health. It also can support the immune system…perfect for this time of year!
Benefits of Oil Pulling
Naturally whitens teeth
Support the immune system
Support healthy gums
Reduces sensitivity
Improving breath
Read more about the benefits here.
Best Oils For Oil Pulling
When choosing an oil to use for oil pulling it's best to choose an oil that is organic, unrefined, and cold pressed in order to maintain the natural benefits of the oil.
How To Oil Pull
Watch the video below to learn the basics of how to oil pull.  We'll be learning even more during the February Oil Pulling challenge.  Join the challenge here.
Not intended as medical advice, always check with an authorized medical professional before changing diet, medications, etc. If nursing, pregnant, or having metal fillings check with your doctor before oil pulling.
Added Bonus:  Essential Oils
When I first started oil pulling I didn't add essential oils to the oil I used for oil pulling.  Over the last six months I started adding therapeutic grade essential oils to my oil pulling mixture because of the amazing benefits for supporting healthy teeth and gums.  I add about 1-3 drops to every tablespoon of oil I use for oil pulling.  My favorite essential oils to use for oil pulling are:
Thieves

: a blend of clove, lemon, cinnamon bark, eucalyptus radiate, and rosemary.  It's known for its cleansing and immune system supporting properties.  Thieves is also great for supporting healthy teeth and gums.
Peppermint:  great for freshening breathe, controlling bacteria, and has been studied for ability to trigger feelings of fullness and satiety.

Lemon

:  known for its cleansing and detoxification properties.  Young Living Lemon essential oil is also high in d-limonene, a powerful antioxidant.

Citrus Fresh

: also know for its cleansing properties and rich in the powerful antioxidant d-limonene, that supports the immune system and overall health.
All three of these oils are part of the Young Living Premium Starter Kit, a great deal and introduction to the world of essential oils. (You can learn more about it here.)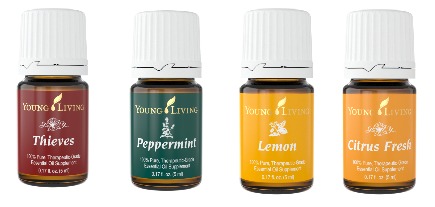 Oil Pulling Challenge
Want to learn more about Oil Pulling?! Then join us for a February Oil Pulling Challenge! For each day of February we'll challenge ourselves to oil pull first thing in the morning to see what benefits we notice.  Each day there will be new posts with tips, tricks, info…plus there will be giveaways! Join us in the challenge here.
Click Here to Pin It!
This content will be shown after all post