This content will be shown before all post
When I first changed my diet I started by lowering my carbs and one of the best substitutes for potatoes was  radishes.  At first I wasn't going to try it because most of my experience with radishes was in raw form in salads.  Yuck!  I definitely wasn't a fan of raw radishes, but I decided to give cooking them a try.  I'm so glad I did because they are absolutely delicious.  The strong flavor mellows out when the radishes are cooked.  I put them in the slow cooker when I make a pot roast, I fry them them for breakfast, and I roasted them as an easy side dish.  Usually I just roast them with a  little salt and pepper, but this time I wanted to add some flavor to mix.  It's so easy to change up the taste of your favorite veggies just by changing up the spice combination.  Feel free to use your favorite spices!
Click Here to Pin It!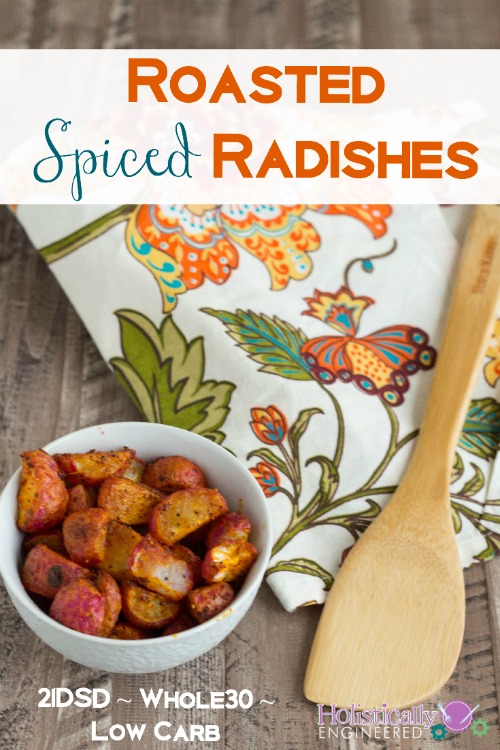 Roasted Spice Radishes (Paleo and Low Carb)
Ingredients
A few bunches of radishes (trimmed and cut in half or thirds)
1/2 tsp paprika
1/4 tsp turmeric
1/2 tsp Real salt
1/8 tsp black pepper
1 Tbsp garlic infused olive oil (or regular olive oil)
Instructions
Preheat oven to 425 F and line a baking sheet with parchment paper.
In a medium bowl, comine the olive oil, paprika, turmeric, salt, and pepper.
Add the cut radishes and stir to coat evenly.
Spread the radishes in an even layer and bake for 15-20 minutes or until tender.
https://holisticallyengineered.com/2015/01/roasted-radishes-paleo.html
This content will be shown after all post