This content will be shown before all post
My recipe for No Bake Almond Butter Bars are very popular so naturally I had to take them to the next level by adding a layer of homemade caramel.  Sooooo good! The caramel I made is a Paleo version using coconut sugar.  I love to use coconut sugar because I don't feel the blood sugar spikes like I do when I use honey or maple syrup.  In the notes section below I do give an option for a low carb caramel sauce version that you can use instead if you want to reduce the carbs.
Click Here to Pin It!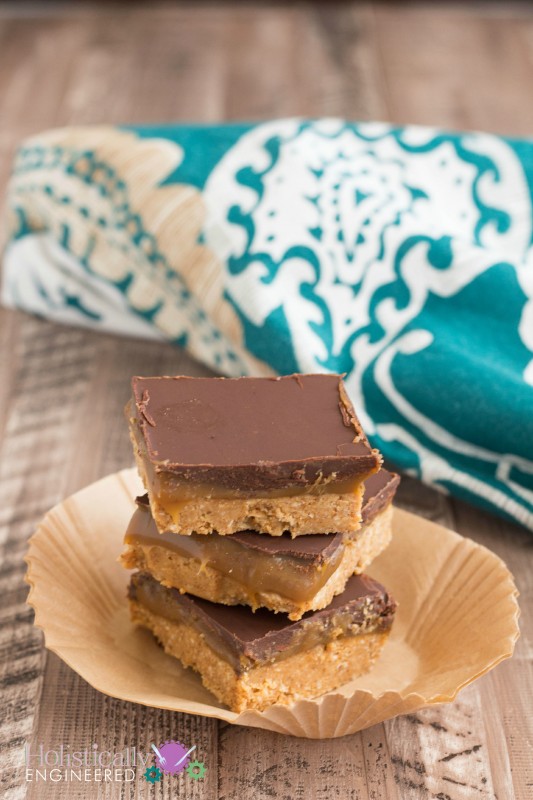 Ingredients
Instructions
In a large bowl, combine the almond flour, coconut, and sweetener.
Over medium-low heat melt 1 cup of almond butter and coconut oil.
Once melted, add the almond butter to the dry ingredients and mix well.
Press the mixture into a 8" x 8" baking dish.
In a medium saucepan over medium-high heat, add the water and coconut sugar and bring to a boil.
Reduce heat to medium, add the coconut milk and salt. Stir continuously for about 15-20 minutes or until the mixture thickens and darkens in color (very frequent stirring keeps the coconut sugar from burning).
Remove from the heat and stir in the vanilla extract.
Allow to cool for about 3 minutes and then poor the caramel over the almond butter layer and smooth out the top for even coverage.
Let set for 15 minutes while melting the chocolate.
Over medium-low heat melt 2 Tbsp of almond butter and the chocolate (I melted it in a double boiler).
Once melted, pour the chocolate over the caramel layer and smooth out the top for even coverage.
Refrigerate for 2 hours or until set.
Cut into 16 even bars (using a hot knife helps make the cutting easier without cracking the chocolate).
Serve very cold.
Notes
**For low carb caramel use this recipe here
https://holisticallyengineered.com/2015/02/caramel-nut-butter-bars-paleo.html
This content will be shown after all post