This content will be shown before all post
I've been using Young Living essential oils for awhile now.  When I first started I took it slow and tried one oil at a time so I could learn how to use each oil properly and to see how my body responded to the oil.  In a previous post, I talked about how to diffuse essential oils and today I'm going to discuss how I use essential oils topically. I use essential oils to help relax, to support normal digestion, to promote restful sleep, to ease muscle discomfort, and so much more.
What are Essential Oils? 
You've probably heard about essential oils a lot lately, but what exactly are essential oils? They come from shrubs, flowers, trees, roots, etc.  and contain the protective properties of the plant…that keeps it growing and healthy. Essential oils are very potent and concentrated.  Therapeutic grade essential oils are distilled (or cold pressed) in a way (i.e. low temperatures and pressures) to preserve the benefits of the essential oils.
Getting Started with Topical Use
Use quality essential oils.  Some essential oils are mixed with other ingredients or synthetic materials to help stretch the oils and reduce costs, but this can cause adverse reactions. I use Young Living because of their seed to seal guarantee, dedication to quality, and transparency with the process of growing and producing essential oils. You can even go visit their farms and participate in the process.  How cool is that?  Get started with essential oils here.
Everyone is different and will react differently so it's important to test on a small area of skin and try one oil at a time. This is especially true if there is residue from personal care products that use synthetic chemicals.
There are two places you never want to use essential oils: in the ears and in the eyes.
Dilute with a carrier oil and not water (remember oil and water doesn't mix)
Also, keep in mind that some oils are photosensitive, which means you want to avoid using on the skin that's directly exposed to sunlight.  Examples of photosensitive oils:  Citrus Oils (like Lemon, Citrus Fresh, Orange, etc.) and Joy.
Neat Application 
"Neat" does not require dilution (a carrier oil) when applying topically
You want to test the skin first
May need a carrier oil to cover a large area (like legs, back, etc.)
Everyday Oils (Young Living) that can be used neat:  Lavender, Frankincense, Purification, Valor, Joy, and Stress Away
Dilution Required 
Why Dilute? We dilute essential oils with a carrier oil when the essential oil feels too warm or hot on the skin or to spread the essential oil further over a larger area like legs and backs.  (leg discomfort from growing kids, muscle discomfort, etc.)
Essential oils are not greasy and do not expire (as long as they don't have additives—if it has an expiration date that's a red flag that it has additives) and essential oils evaporate easily.  Diluting helps keep the essential oil from evaporating too quickly.
Each essential oil bottle has the recommended dilution ratios (as always test in a small area first).  For example, PanAway says "Dilute 1 drop with 4 drops of V-6 or olive oil." which means use 1 drop of PanAway with 4 drops of a carrier oil (you can use your favorite carrier oil–see below for more info).
You might also see dilution ratios like, 50-50 or 20-80 dilution ratio.  The 50-50 dilution ratio means 1 part essential oil with 1 part carrier oil.  The 20-80 dilution ratio means 1 part essential oil to 4 drops of carrier oil.
Everyday Oils (Young Living) that require dilution:  Peppermint, Thieves, PanAway, Peace & Calming, and Lemon
Click Here to Pin It!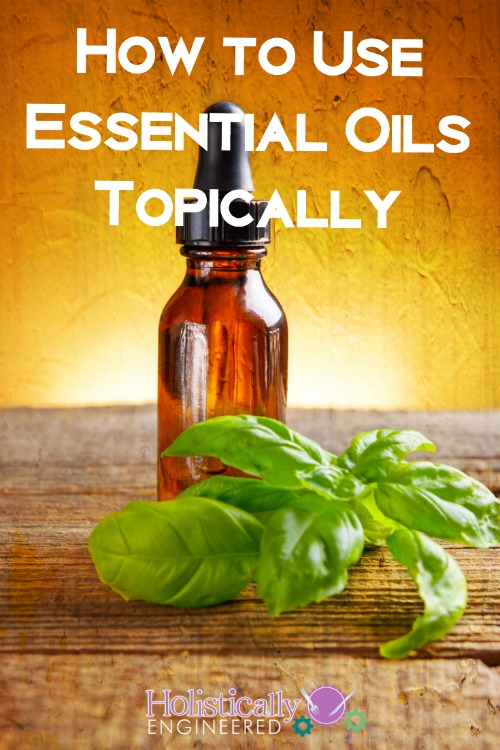 Carrier Oils
So what is a carrier oil?
Carrier oils (aka an organic vegetable oil) are fatty, feel greasy, will eventually go rancid/expire but they dilute and cut up an essential oil.
Examples of carrier oils are: olive oil, coconut oil, almond oil, avocado oil,  and Young Living V-6 carrier oil (a blend of of six different vegetable oils).
Reusing bottles:  You can pre-dilute an essential oil with a carrier oil by reusing an essential oil bottle (or picking up some new empty bottles) to have it ready to go for topical application.
Buying carrier oils:  Just like when using oils in my diet, I also make sure I buy quality carrier oils for diluting.  Look for oils that have been cold pressed or cold expeller pressed.  It is also good to look for oils that are from organic or organically grown plant material, if possible. I typically use coconut oil (get quality coconut oil here).
Where to Apply Essential Oils
Vita Flex Points: Vita Flex means "vitality through the reflexes" and is an easy way to apply essential oil through the bottoms of the feet (in both the hands and the feet).
For example, if I'm using Peppermint to support normal digestion I will mix 1 drop of Peppermint with 1 drop of carrier oil and apply it to my left foot in the Vita Flex point for stomach/digestion.  I also like to use En-R-Gee Essential Oil Blend on my adrenal gland Vita Flex points for a boost of energy.  Applying to the Vita Flex points is a good way to start.
I sometimes find that I prefer to apply directly to the area.  Like the Peppermint mixture, I have tried it on myself and find that I like to apply peppermint on my stomach rather than my feet.  Or I also like to use DiGize topically on my stomach to support normal digestion.  Both Peppermint and DiGize can be "hot" essential oils so you may prefer it on your feet.
Relaxation:  across the forehead and on temples (Frankincense, Stress Away or Lavender)
Seasonal Sniffles:  The bridge of the nose and back of my neck (Lavender, Lemon, and Peppermint)
Tension:  temples, base of the back of the neck, top of the shoulders (Peppermint or PanAway)
Mood Booster:  across the forehead, behind the ears, on the wrists (Frankincense, Citrus Fresh or Joy–applying oils like Joy on my head helps also get the benefits of inhalation)
Night time Oils:  Center of the head between the eyebrows, crown of the head, behind the earlobes (Lavender, Stress Away, or Cedarwood)
Skin: I like to premix oils like Lavender, Frankincense, and Melrose with a carrier oil in a bottle that has a glass dropper top for easy application.  Like in my DIY facial moisturizer (get the recipe here).
For scars, I like to apply Lavender and Frankincense neat and for bruises I like to use diluted PanAway.
Other Ways to Use Essential Oils Topically 
Massage—for sore muscles
Warm or Cold Compress—with residual oil for a massage…apply a warm or cold cloth on top.
Bath (bath salts) or shower
Personal Care items (like toothpaste-Thieves, deodorant-Purification, and Body Spray-Stress Away and Lavender)
This content will be shown after all post