This content will be shown before all post
My friend Kelly created her amazing cookbook, Paleo Eats to help share delicious recipes with those that are trying to make the transition to a grain free, real food diet.  Kelly's creativity in the kitchen shines through as she creates Paleo friendly versions of Sweet and Sour Meatballs, Southern Fried Chicken, Lamb Gyro Burgers, Cherry Toaster Pastries, Caramel Apple Cinnamon Rolls, and so much more! Today I'm sharing the recipe for Coconut Cinnamon Cereal.
Within 6 short months, Kelly Bejelly, the blogger behind, A Girl Worth Saving, knew she would eat Paleo for life! With her health issues under control for the first time ever, she jumped on the Paleo bandwagon with gusto…only to get bored, fast. So in her usual fashion, she rolled up her sleeves and re-created some of her favorite foods, Paleo-style! Now you too can enjoy these tasty treats in her new cookbook, Paleo Eats: 111 Comforting Gluten-Free, Grain-Free and Dairy-Free Recipes for the Foodie in You. Kelly has done all of the work for you so that you don't have to try to figure out how to eat a wide variety of mouth-watering, nourishing Paleo meals. Paleo no longer means "boring!"
Paleo Eats has:
113 Easy-To-Follow Recipes
 10 Invigorating Breakfast Dishes
 27 Satisfying Dinner Recipes
 17 Can't-Miss Sides and Salads
 24 "Too-Good-To-Be-True" Desserts
 18 Must-Have Pantry Recipes
 5 Refreshing Drinks
You can pick up your copy of Paleo Eats here.
Click Here to Pin It!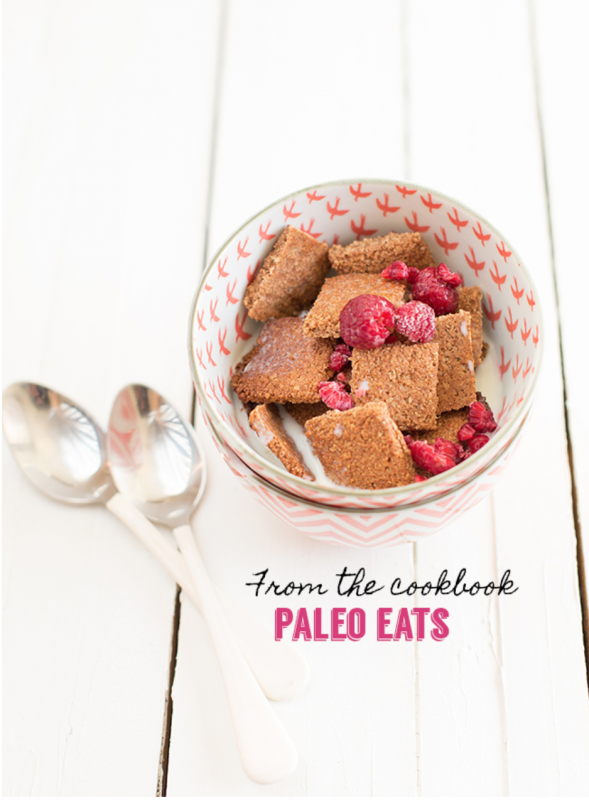 Coconut Cinnamon Cereal from Paleo Eats Cookbook
Ingredients
½ cup raw sunflower seeds
1 tablespoon ground cinnamon
¼ teaspoon sea salt
¼ cup maple syrup
1 large egg
½ teaspoon melted coconut oil
Instructions
Preheat the oven to 350 degrees. Line a baking sheet with parchment paper.
Place the coconut shreds and sunflower seeds in a food processor and grind for 30 seconds.
Add the cinnamon, salt, maple syrup, egg, and coconut oil and pulse until combined, about 2 minutes.
Scoop the mixture onto the prepared baking sheet. Cover with a second piece of parchment paper and with a rolling pin, roll to ¼-inch thick. Remove and discard the top piece of parchment paper.
With a wet knife, score the dough into 1-inch squares.
Place in the oven and bake for 10 to 15 minutes, until firm to the touch. Remove from the oven and let sit on the pan for 15 minutes to allow it to crisp up.
Store in an airtight jar in the refrigerator for up to 1 week.
https://holisticallyengineered.com/2015/03/paleo-coconut-cinnamon-cereal.html
This content will be shown after all post