This content will be shown before all post
In the last year or two my Dad had been trying to eat better and lose some weight.  I had asked him several times to try going gluten/grain free for 30 days to see what effect it would have on his psoriasis.  He eventually got on board and started to notice his skin was clearing up.  He was so happy about it! His doctor even said he didn't need to take the shots he was taking to help "control" his psoriasis since diet had made such a significant difference (the shots weren't really helping anyway) .  Changing his diet also helped him lose around 80 lbs.  I was so proud of him and I was honored that he thought highly of the knowledge I had learned over the years to give it a try himself.
You may have heard, but unfortunately my Dad passed away early last month.  It was all so sudden and a big shock for my family.  Things happen for a reason and even though I may not know why he had to leave us so soon, I know God has a plan and does all things for the good of those that love him.  I ended up going through some of his papers and I found a notebook of recipes that my Dad had been making over the last year in his quest to switch to a real food diet.  Seeing those recipes instantly put a smile to my face and I just knew I had to recreate them and photograph them for the blog.  Photography was one thing we had in common and even enjoyed taking some beginner classes together.  I'm planning to compile the recipes into an ebook so I can have the memory of his recipes in one place.  I think it will be a good way to go through the grieving process and enjoy delicious food!!
Click Here to Pin It!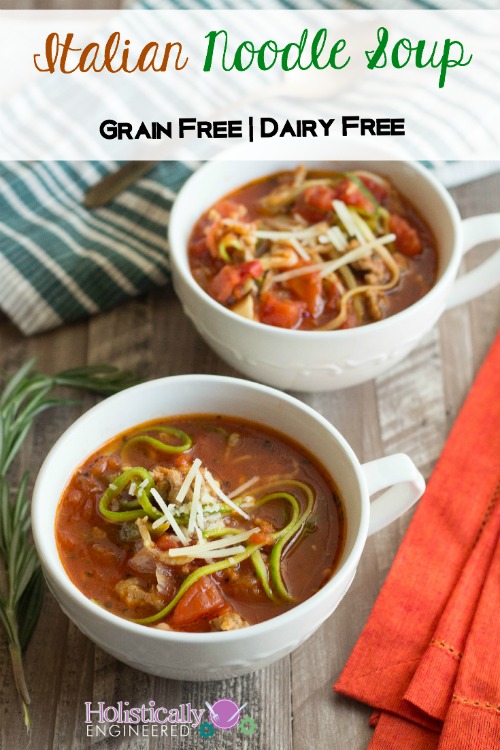 Ingredients
1 lb ground Italian Sausage (make your own by adding a homemade spice blend to ground pork)
1 large onion, chopped
2 cloves garlic, minced
36 oz diced tomatoes (check the ingredients--this is a good option)
2 green bell peppers, but into 1/2" slices
1 cup chicken bone broth (get the recipe here)
2 tsp Italian seasoning (like rosemary, thyme, oregano, etc.)
1 tsp real salt
2 large zucchinis, cut into noodle (I use a spiral slicer)
Instructions
In medium skillet over medium high heat, brown the ground sausage until cooked through.
Add the cooked sausage, onion, garlic, diced tomatoes, green bell pepper, bone broth, Italian seasoning, and salt to the bowl of a slow cooker.
Cook on low for 4 hours.
About 15 minutes before serving, add the zucchini noodles and allow to soften slightly before serving.
https://holisticallyengineered.com/2015/03/italian-noodle-soup-paleo.html
This content will be shown after all post