This content will be shown before all post
When I received Make it Paleo II in mail, I immediately flipped through it to check out the gorgeous pictures.  I ended up showing my Mom and she rattled off a list of recipes she wanted to make from the book (the list was rather long…lol).  Some of the recipes on the list were Orange Chicken, Nightshade-Free Pizza, and Lobster Fettuccine Alfredo.  We first made the Orange Chicken which was the perfect substitute for typical take-out food we used to eat without all of the junk.  Next, up was Nightshade-Free Pizza.  You may be wondering what nightshades are and why would want to take them out of your diet.  This is a great article that explains all about nightshades, read more here.  The great thing is you can use whatever pizza toppings that you enjoy.
The next recipe we made was our absolute favorite and it was Lobster Fettuccine Alfredo.  The Alfredo sauce was easy to make (and you can make it dairy free as written in the recipe or following my notes if you want to reduce the carbs a bit more and can handle eating dairy).  Another reason I wanted to try the Lobster Fettuccine Alfredo was because I really wanted to try the Capello's grain-free pasta (get it here).  I came across some of the grain-free pasta in the freezer section at my local health food store and really wanted to try it.  The pasta isn't low carb (it does contain some grain-free starch) so if you're looking to cut your carbs stick with the spiral-sliced zucchini noodles (like this), which is a delicious low carb option.  The sauce was absolutely delicious and would been just as good with cooked chicken, shrimp, salmon, or canned tuna.  We splurged on the lobster, but the sauce on its own was amazing and we loved the realistic texture of the grain-free pasta.  Even my finicky brothers (who refuse to go grain free) loved the pasta.
Make it Paleo II has so many great recipes (there's even more that we want to make) and it also includes substitutes for certain allergies/sensitivities as well as clearly marking the recipes (i.e. dairy-free, nut-free, nightshade-free, egg-free, etc.). You'll definitely want to pick up a copy of Make it Paleo II here.
Click Here to Pin It!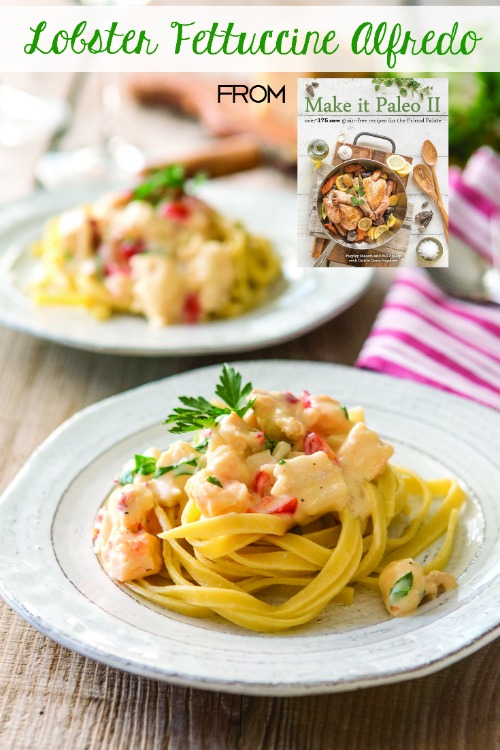 Lobster Fettuccine Alfredo
Ingredients
2 Tbsp ghee* (make your own here)
2 cloves garlic, smashed with the side of a knife and minced
2 tsp finely diced shallot
1/2 tsp sea salt
5 grinds black pepper
1 cup coconut cream* (get it here)
1/4 cup Chicken Stock (make your own here)
1 tsp nutritional yeast* (get it here)
4 small (2-oz) lobster tails
1 (12-oz) package Cappello's grain-free fettuccine (get it here) or 2 large zucchini, spiral-sliced (get a spiralizer here)
1/2 cup quartered cherry tomatoes
1 Tbsp chopped fresh parsley
Instructions
Heat the ghee in a small saucepan over medium heat. Add the garlic and shallot and sauté until translucent and fragrant, about 2 minutes. Turn the heat down to medium-low and season with the salt and pepper. Add the coconut cream and whisk until smooth.
Add the stock and nutritional yeast to the pot and continue to whisk until completely combined. Reduce the heat to low and allow the sauce to gently simmer and reduce while you prepare the rest of the dish, stirring every so often. The sauce is finished when it coasts the back of a spoon, about 30-40 minutes.
Place the lobster tails in a steamer basket set over a pot of boiling water and steam for 8-10 minutes, or until the shells are bright red and the meat is opaque. Remove the cooked lobster tails from the pot and allow to cool.
While the lobster tails are steaming and cooling, prepare the noodles. If using Cappello's noodles, prepare according to the instructions on the packaging. If using spiral-sliced zucchini, steam the noodles until just tender, about 13-15 minutes.
Remove the lobster meat from the shells and rinse the meat under cold water to be sure it is free of any shell pieces. Chop the meat into bite-sized chucks and add it to the Alfredo sauce along with the tomatoes and parsley. Stir to combine evenly with the sauce. Plate the noodles, top with lobster Alfredo, and serve.
Notes
*Karen's note: If you can handle dairy--butter (instead of ghee), heavy cream (instead of coconut cream), and parmesan cheese (instead of nutritional yeast) would also work. Also, cooked chicken, wild shrimp, or canned tuna would also be great in this recipe.
https://holisticallyengineered.com/2015/03/paleo-fettuccine-alfredo.html
This content will be shown after all post