This content will be shown before all post
When I made my Caramel Nut Butter Bars, I absolutely loved the caramel sauce and wanted to use it in other desserts.  One of my favorite desserts to make is no bake cheesecake since it's so easy to whip up.  The caramel sauce pairs nicely with the slightly tart cheesecake.
Other No Bake Cheesecake Recipes:
Click Here to Pin It!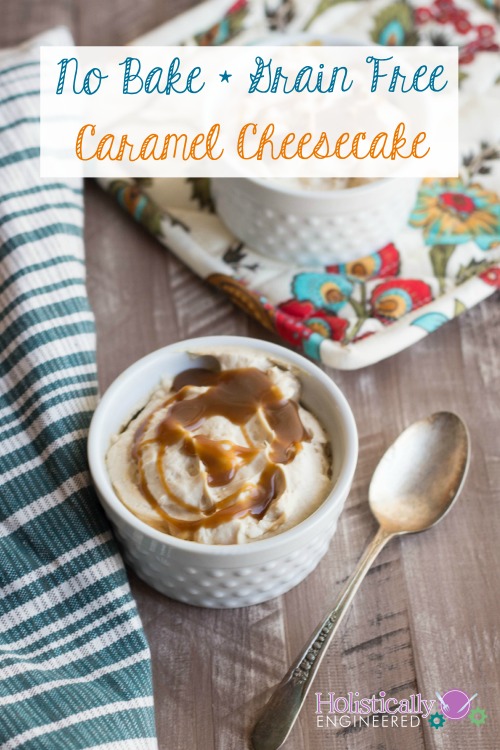 No Bake Caramel Cheesecake (Grain Free)
Ingredients
Caramel** (see Notes for low carb option)

1/4 cup water
1/2 cup coconut sugar
1 cup coconut milk or heavy cream
1/4 tsp real salt
1 tsp pure vanilla extract

For the Crust

1 1/2 cups of mixed nuts (I used 1/2 cup each of almonds, pecans, and walnuts)
1-2 Tbsp granular sweetener or coconut sugar (sweeten to taste)
1/2 tsp cinnamon

For the Cheesecake

8 oz. cream cheese, softened
1 1/2 cups heavy cream
1/4-1/2 cup powdered sweetener (sweeten to taste) or honey for Primal
1 1/2 tsp vanilla extract
Instructions
For the caramel

In a medium saucepan over medium-high heat, add the water and coconut sugar and bring to a boil.
Reduce heat to medium, add the coconut milk and salt. Stir continuously for about 15-20 minutes or until the mixture thickens and darkens in color (very frequent stirring keeps the coconut sugar from burning).
Remove from the heat and stir in the vanilla extract.

For the crust

In a high speed blender or food processor, blend the mixed nuts, sweetener, and cinnamon until finely ground and sticking together.
Place 1/4 cup of the nut mixture into the bottom of a small bowl or glass.
Repeat with 3 other bowls/glasses.

For the cheesecake

Beat the cream cheese with the sweetener on medium speed until smooth (about 2 minutes).
After scraping sides of the bowl, add the the cream and vanilla and whip (I used a whisk attachment on my mixer) on medium speed until light and fluffy (about 2 minutes).
Swirl in the caramel (as much or as little as you'd like)
Divide the mixture evenly among the four bowls/glasses.
Serve immediately or refrigerate to completely set.
Notes
*For low carb caramel use this recipe here
https://holisticallyengineered.com/2015/03/no-bake-caramel-cheesecake.html
This content will be shown after all post