This content will be shown before all post
Chicken is one of my favorite things to eat.  These days I usually opt for the bone-in, skin on chicken since that is what comes in my monthly meat share….and most importantly it tastes so much better.  When I do end up eating boneless, skinless chicken breast I have to find some ways to give it some moisture and flavor.  Well I recently ordered some Primal Mayo to give it a try.  The Primal Mayo doesn't have any added sugar and is made from a more quality oil (avocado)…must better than conventional store bought mayo (and more convenient than making it yourself).  I ended up using it to make a cheesy, herb coating for the chicken.  It gave it a bit of a crispy crust and kept the chicken juicy and full of flavor.
Click Here to Pin It!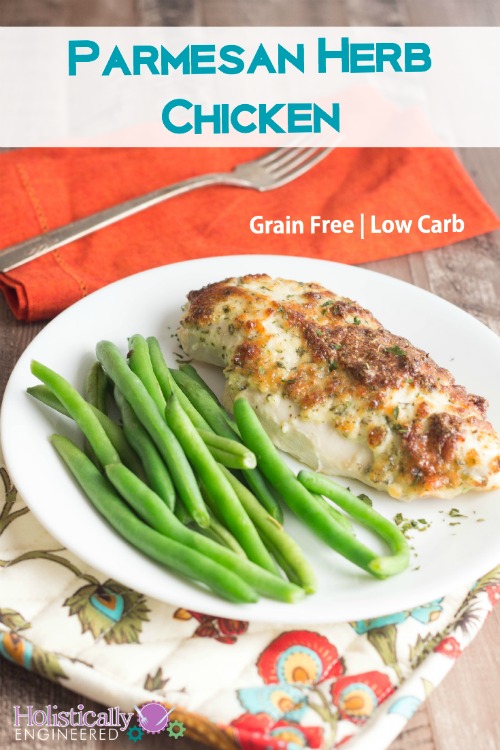 Parmesan Herb Chicken (Grain Free and Low Carb)
Ingredients
1 1/2 lbs boneless, skinless chicken breast
1/4 cup homemade or paleo mayo (I used Primal Mayo found here)
1/4 cup grated parmesan cheese
1 tsp dried parsley
1/2 tsp dried basil
1/2 tsp dried oregano
1/2 tsp dried rosemary
Salt and pepper, to taste
Instructions
Preheat oven to 425 F
In a small bowl, add the mayo, parmesan cheese, and herbs. Stir to combine.
Add salt and pepper, to taste
Spread the mixture in an even layer over the chicken breast
Place in a baking dish and bake for about 17-20 minutes or until cooked through.
https://holisticallyengineered.com/2015/03/low-carb-parmesan-herb-chicken.html
This content will be shown after all post