This content will be shown before all post
So what exactly is carob? Carob powder is made from the dried pods of the carob tree and is a substitute for chocolate.  It has a rich chocolate like flavor.  Chocolate is high in histamines and I am trying to eat a low histamine diet to help control and heal my skin and Rosacea symptoms.  When I eat foods high in histamine (strawberries, chocolate, fermented foods, avocado, etc.) it flares up the redness in my face.  I love chocolate so it's nice to have a tasty dessert option that tastes like chocolate, but doesn't cause the same redness flare ups.  If you can eat chocolate feel free to use cocoa powder, but it may need some extra sweetener since carb powder is naturally sweeter than cocoa powder.
Click Here to Pin It!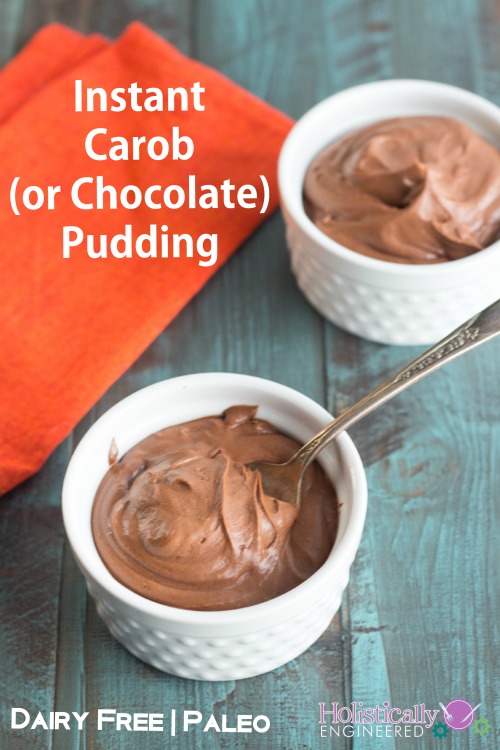 Instant Chocolate (or Carob) Pudding (Dairy Free and Paleo)
Ingredients
2 (13.5 oz) cans of coconut milk, refrigerated overnight
1/3 cup powdered coconut sugar (run regular coconut sugar in a blender or spice grinder to powder) or use powdered Swerve for low carb)
1/3 cup carob powder (carob is a chocolate substitute (get it here)--you could also use cocoa powder, but it would need more sweetener)
1 tsp vanilla extract
Optional: 1 drop Young Living Peppermint Essential Oil (get started with essential oils here)
Instructions
In a mixing bowl add the hardened coconut cream part of the coconut milk (reserve the coconut water that is at the bottom).
Add the coconut sugar, carob powder, and vanilla. Mix at low speed until it starts to combine. Increase speed and mix on high until smooth.
Add the reserved coconut milk water, 1 Tbsp at a time, and mix until the desired consistency is reached (I used about 3 Tbsp)
Add the Peppermint Essential Oil and stir to combine.
https://holisticallyengineered.com/2015/04/dairy-free-carob-pudding.html
This content will be shown after all post