This content will be shown before all post
Having an easy, homemade salad dressing makes a great real food kitchen staple.  Before I changed my diet the only salad dressing I would use was ranch.  Typically ranch dressing in a bottle from the store (and when you make it yourself at home from the packet) contains a lot of non-real food/inflammatory ingredients.  So I had to change my staple salad dressing and I ending up turning to a vinaigrette.  What I love about vinaigrettes is that you can throw all of the ingredients in a mason jar, shake it up, and it ends up being very creamy.  Sometimes it's nice to make a dressing that's extra creamy and to jazz it up a bit.  For this Creamy Bacon Vinaigrette, I took a basic vinaigrette recipe and swapped out some of the olive oil for bacon fat to give it more flavor.  I also add some mascarpone cheese and bacon pieces to make it extra creamy.  I've been growing some summer vine spinach in my Tower Garden so I chopped it up, threw on some leftover grilled veggies, and topped it with the Creamy Bacon Vinaigrette.  A perfect way to end the summer!
Click Here to Pin It!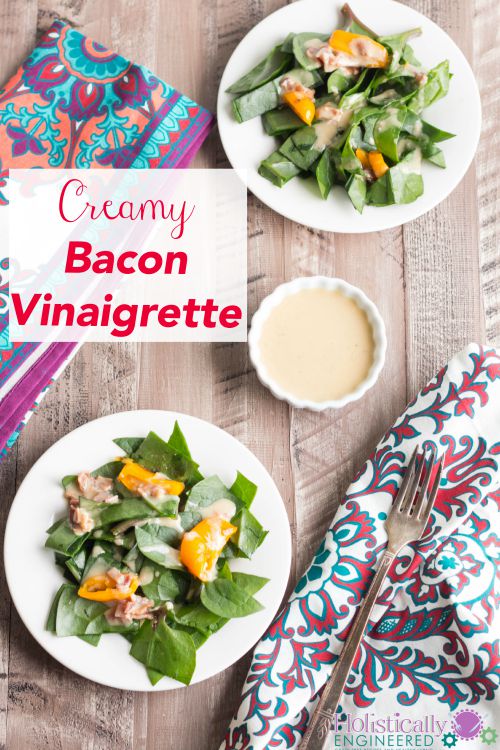 Ingredients
4 strips of bacon
1/3 cup extra virgin olive oil
3 Tbsp bacon fat
1 garlic clove
2 1/2 Tbsp red wine vinegar or lemon juice
2 Tbsp of mascarpone cheese, softened (or coconut cream for dairy free)
Instructions
Cook bacon until cooked through, reserving the bacon fat that renders. Once the bacon cools chop the strips into small pieces.
In a mason jar, add the olive oil and 3 Tbsp of the reserve bacon fat.
Using a microplan grater, grate the garlic clove into the jar.
Sprinkle with salt and pepper.
Add the vinegar or lemon juice to the jar.
Place the lid on the mason jar and shake the ingredient together until creamy and well combined.
In a medium bowl, add the mascarpone cheese and bacon pieces.
Add the vinaigrette base and whisk until the mascarpone cheese is well combined.
https://holisticallyengineered.com/2015/09/creamy-bacon-vinaigrette.html
This content will be shown after all post