This content will be shown before all post
Apples are in season right now so it's a perfect time to enjoy a natural dessert of paleo bakes apples.  The baked apples have all the flavors of fall in a delicious dessert that you can feel good about feeding to your family and friends.  To the north of us there are a lot of apple orchards.  I really hope I can fit some time into my schedule this fall to make a trip (it's a bit of a road trip) to pick some apples.  I found an orchard that uses an organic growing processes and it would nice to get local, fresh apples that haven't sprayed with toxic chemicals.   One of my goals over the last few years has been to reduce my exposure to toxic chemicals.  That has happened through paying attention to my food sources (buying locally, organically grown) and well as removing conventional cleaning and personal care products (replacing them with DIY options or naturally derived ingredients with essential oils).
Click Here to Pin It!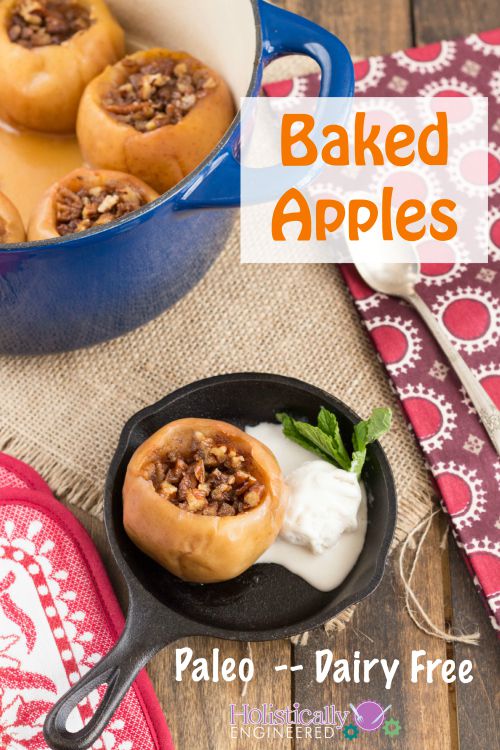 Ingredients
Instructions
Preheat oven to 350 F.
In small bowl, cut in the butter into the coconut sugar to form crumbs.
Stir in the chopped pecans, Cinnamon Bark essential oil, and Nutmeg essential oil.
Prepare the apples by cutting a circle off the top of the apple.
Remove the core and the seeds with a spoon.
Place the apples in a baking dish and fill the apples evenly with the pecan filling.
Pour the water into the bottom of the baking dish.
Cover the baking dish and bake for 45 minutes or until the apples are tender.
Allow to cool and serve with homemade vanilla ice cream (get the recipe here).
https://holisticallyengineered.com/2015/09/paleo-baked-apples.html
This content will be shown after all post