This content will be shown before all post
Who doesn't need a tried and true grain free chocolate chip cookie recipe?  You guys!  I'm so excited about sharing this one.  You see, this recipe comes from my friend Carol's new cookbook, Ditch the Wheat and I personally know Carol has poured years into making this cookbook a reality. Do you know that you can deliver Christmas cookies to your loved ones on that special day? You can visit a site like chocolateshippedcookies.com for more info!
When I started my blog back in 2011, Carol was one of my first blogger friends.  Carol didn't live anywhere near me, but thanks to the internet I had someone "by my side" as I tried to navigate learning how to keep a blog up and running plus someone to understand my "crazy" way of eating. She's an awesome friend, incredible recipe creator, and an amazing food photographer.
Now for the recipe, Carol gave a sneak peak of this cookie recipe back in April at the Paleo F(x) conference and since then I have been making the recipe several times a month. It's the perfect thing to take to a pot luck since it's so easy to make and is loved by everyone (even the grain lovers).  I've had several family members ask for the recipe because they love the taste and they love having a healthier option.  If you've never seen Carol's recipes, I definitely recommend heading over to her blog, Ditch the Wheat, and checking out here delicious recipes and spectacular food photos.  You'll definitely be drooling over those photos! If you want to pick up a copy of her cookbook, click here to get your copy.
Click Here to Pin It!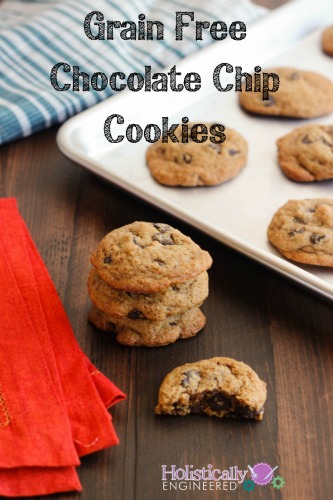 Grain Free Chocolate Chip Cookies
From the cookbook Ditch the Wheat--get your copy here
Ingredients
Instructions
Preheat the oven to 350°F. Line two cookie sheets with parchment paper.
In a small bowl, thoroughly whisk together the almond flour, arrowroot starch, baking soda, and salt.
In a large bowl, using a hand mixer on medium speed, beat the coconut palm sugar, coconut oil, egg, and vanilla until smooth, about 2 minutes. Slowly add the flour mixture and mix just until incorporated. Use a spatula to stir in the chocolate chips.
Using two soup spoons, drop the dough in roughly 1-inch portions, spaced 2 inches apart, onto the prepared cookie sheets.
Bake, one sheet at a time, for 8 to 10 minutes, until the bottoms and edges ofthe cookies are lightly browned and the tops feel firm when gently touched. Let cool on the cookie sheet for at least 1 minute, then transfer the cookies to a wire rack to cool completely.
Store in an airtight container at room temperature for up to 4 days, or in the freezer for up to 3 months.
https://holisticallyengineered.com/2016/03/grain-free-chocolate-chip-cookies.html
This content will be shown after all post