This content will be shown before all post
I have now completed Day 16 of
Whole30
.  Since I will be traveling this week and away from my beloved kitchen I decided to make a "fancy" meal for dinner.  I think this would make a great holiday or Sunday dinner. This Dijon Pork Tenderloin and Mashed Roasted Cauliflower with Garlic was perfection.
My meals for Day 16 were:
Snack: Cucumber and carrots (dressed with olive oil and vinegar)
Lunch: Tuna with a side salad (dressed with olive oil and vinegar)
Dinner: Dijon Pork Tenderloin with Mashed Roasted Cauliflower and Garlic (Recipe Below)
I used the following ingredients for Whole30 Dijon Pork Tenderloin:
2 lb pork tenderloin (I had two pieces)
2 tsp dried basil
2 tsp dried rosemary
2 tsp dried oregano
1 tsp garlic powder
1/2 tsp salt
1-2 Tbsp Dijon mustard
Combine the basil, rosemary, and oregano and pulse in a spice grinder until a powder forms.  Add the garlic powder and salt to the spice mixture.  Preheat oven to 450 F.In a large skillet, heat 1-2 Tbsp of oil over medium-high heat.  Spread the Dijon mustard over all sides of the pork tenderloin.  Sprinkle the seasoning mixture evenly over all sides and rub the mixture into the pork tenderloin.  Sear the tenderloin for 3 minutes per side (12 minutes total). Once seared, place the tenderloin in a baking dish and bake until cooked through (about 15-20 minutes).
Served with Mashed Roasted Cauliflower and Garlic
1 head of cauliflower (cut into florets)
1 head of garlic
1/2 cup chicken stock
Salt and pepper, to tastePreheat oven to 425 F.  Spread the cauliflower on a baking sheet (lined with parchment paper).  Drizzle with oil and season liberally with salt and pepper.  Toss to combine and spread the cauliflower on the pan.  To prepare the
garlic
, cut the top of the garlic to expose the cloves.  Remove most of the outer layers of skin (leave at least one layer to hold the garlic cloves in place).  Wrap the garlic in foil and drizzle with oil before closing the foil.  Place the wrapped garlic on the pan with the cauliflower.  Bake for 25-30 minutes or until the cauliflower is tender and the garlic has caramelized (the garlic may need longer to cook). Remove and allow to cool.Meanwhile, heat the chicken stock in a sauce pan over medium heat.  Once the cauliflower and garlic have cooled, add the cauliflower to a food processor or blender.  Squeeze the garlic cloves out of the skin and add it to the cauliflower.  Process until the cauliflower and garlic is mostly smooth.  Add the chicken stock a little at a time until the desired consistency is reached.  Season with salt and pepper to taste.
Whole30 
Pork Tenderloin
: 5 net carbs (for the entire recipe)
Whole30 Mashed Roasted Cauliflower and Garlic: 24
net carbs (for the entire recipe–makes about 2 cups)
*Note carb counts are estimated based on the products I used. Check nutrition labels for accurate carb counts.
Comments: The Pork Tenderloin had such a great flavor and it was really easy to prepare.  I actually did not overcook it for once so it was really tender and juicy.  I absolutely love roasted cauliflower and roasted garlic so it was prefect to combine them into an amazing side dish to accompany the pork tenderloin.  I actually added one and a half heads of garlic (I made a double batch so I used 3 heads total) because I really like the garlic flavor.
Click Here to Pin It!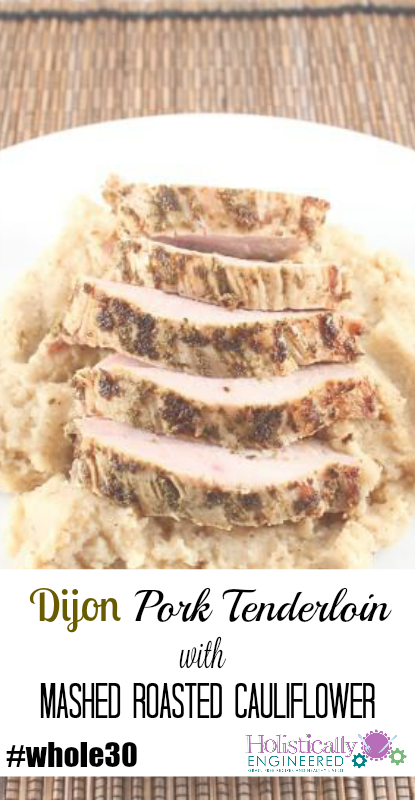 This content will be shown after all post