This content will be shown before all post
When I first posted my recipe for a Chocolate Muffin in a Minute I received requests for different varieties.  People love to throw together these quick muffins as an easy breakfast.  This time, I've made a Blueberry Muffin in a Minute for all you blueberry lovers. I've mentioned before how I've never been a fan of Muffins in a Minute throughout my years of low carb mostly because all of the recipes I came cross all use flax seed.  I prefer a muffin in a minute without flax mostly because the taste of flax seed has never been appealing to me.  I've tried it so many times to give it a fair judgment.  I even tried brand new packages of flax seed and grinding my own in case the package I was using was rancid. No luck, I  always end up throwing away what I made because the flax never tastes right.  I also like the texture of the muffins without flax seed better than muffins that use flax.  To me, flax makes the muffins dense and heavy.  For this version, I used almond flour to make the muffin, which is light and fluffy.  I ended up having some leftover blueberries that I wanted to use up so I threw them in this delicious muffin recipe.  It was a quick and easy way to make a blueberry muffin that can be served for either breakfast or dessert.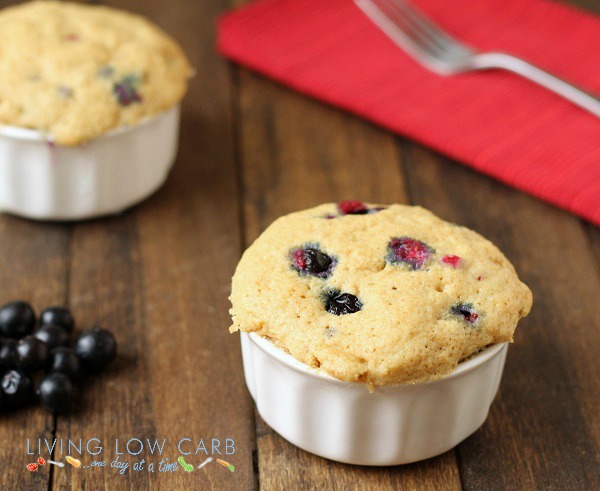 Blueberry Muffin in a Minute
Ingredients
1/4 cup almond flour
1/4 tsp baking soda
3 Tbsp equivalent sweetener (I use Swerve or 15-20 drops of liquid stevia)
1 Tbsp coconut oil or grass fed butter + more for greasing the ramekin
2 Tbsp almond butter
1 large pastured egg
1/4 tsp vanilla
1/2 tsp lemon juice
1/4 cup fresh organic blueberries
Instructions
Lightly grease two 4 1/2" ramekins.
In a small bowl, combine all of the dry ingredients.
Add the remaining ingredients (except the blueberries) and stir to thoroughly combine.
Add the blueberries and stir to incorporate.
Divide the batter evenly into the ramekins and microwave* for 1 minute 20 seconds (up to 1 minute and 30 seconds or until set).
Run a knife along the edge of the ramekins and remove the muffins.
Serve with butter or ghee.
*Optionally you can bake these muffins at 350 F for 15-17 minutes or until cooked through.
Notes
Net Carb Count*: Blueberry Muffins in a Minute: 6.2 net carbs (per serving--yields 2 large servings)
*Note carb counts are estimated based on the products I used. Check nutrition labels for accurate carb counts and gluten information.
https://holisticallyengineered.com/2013/07/blueberry-muffin-in-a-minute.html
Click Here to Pin It!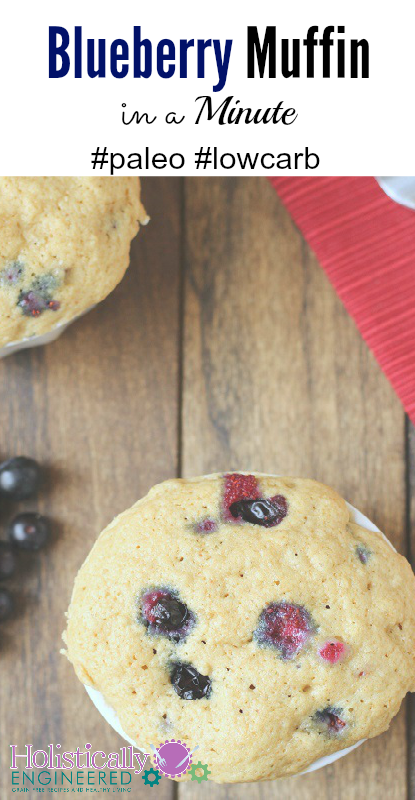 This content will be shown after all post