This content will be shown before all post
Over the next few months I will be busy working on my next eCookbook, which is scheduled to be out in December 2013.  While I'm focused on the new cookbook I didn't want to leaving you without your fix of low carb and paleo recipes, so I reached out to some of my favorite bloggers to share some delicious recipes with the readers of Living Low Carb…One Day at a Time.  Today's guest post is a comforting Paleo Chicken Curry dish from Sylvie of Hollywood Homestead.  Please head over to Hollywood Homestead and check out Sylvie's delicious Paleo recipes and don't forget to follow Hollywood Homestead on facebook!
Paleo Chicken Curry a Guest Post by the Hollywood Homestead
Ingredients
2 cups chicken broth
2 cups coconut milk
1 cup shredded chicken
1 onion, chopped
2 tsp. garlic powder
2 tsp. ghee
1 tsp. turmeric powder
1 tsp. onion powder
1 1/2 tsp. sea salt
Leaves from one sprig of fresh rosemary
Instructions
Place chopped onion in a skillet with the ghee and rosemary.
Cook until translucent.
Add the remainder of the ingredients and mix well.
Let simmer until the desired consistency - the longer the more flavorful!
Enjoy over cauliflower rice!
Notes
Net Carb Count*: 4.28 per serving (serves 5)
Total Carb Count: 4.96 per serving (serves 5)
*Note net carb count = Total carbs - fiber.
Carb counts are estimated based on the products I used. Check nutrition labels for accurate carb counts and gluten information.
https://holisticallyengineered.com/2013/09/paleo-chicken-curry-2.html
About the Author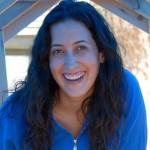 Sylvie is a celebrity personal assistant and mom of 3 by day, paleo enthusiast and blogger by night.  She and SAHD hubby, Eric, each lost over 60 lbs with paleo and continue to improve their family's health with food and lifestyle tweaks.  Sign up for her newsletter at www.hollywoodhomestead.com and follow her on Facebook and Twitter.

This content will be shown after all post