This content will be shown before all post
I picked up a copy of Slow Cooker Soups and Stews: 30 Recipes To Keep You Warm During Winter by Kyndra Holley.  I'm a big fan of Kyndra's recipes and was looking forward to checking out her ebook.
What's included in the book:
30 slow cooker soup and stew recipes
An interactive table of contents allowing you to seamlessly go between recipes and the table of contents without scrolling through all of the pages.
Every recipe states nutritional estimates (Calories, Carbs, Fat, and Protein)
All recipes are low-carb and gluten-free
There is also a great mixture of paleo and primal recipes

What I Love About the eBook:
It includes pictures of the ingredients and the finished recipe so you know exactly what it should look like.
Contains delicious recipes like Philly Cheesesteak Soup and Italian Meatball Zoodle Soup (pictured above)
The recipes are all gluten free and many are paleo/primal friendly.
Provides a list of handy kitchen tools to make your cooking experience easier.
I LOVE that there is a link back to the Table of Contents so you don't have to scroll through to get back to the Table of Contents.
Includes estimated cook times, servings, and nutritional info.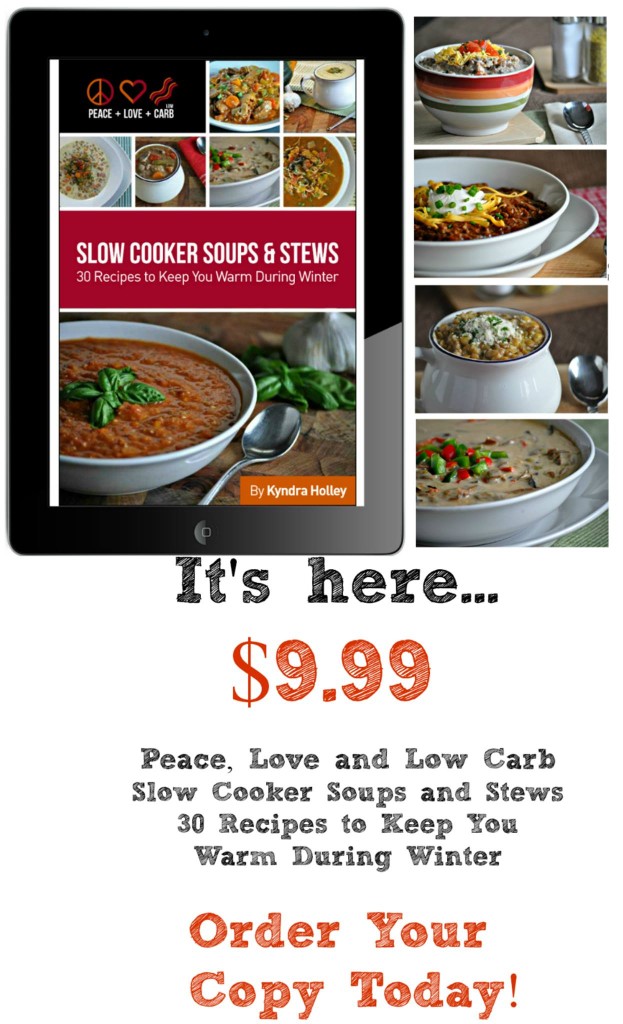 As expected, Kyndra's ebook is amazing with beautifully created recipes with tons of useful information.  Grab your copy today!
Click +1 Below:
This content will be shown after all post