This content will be shown before all post

I'm excited to be able to give away a Royal Berkey Water Filter to one lucky reader!  You drink water every day and use it for everything from making coffee to cooking dinner, but do you really know what's in your water?
If you aren't familiar with a Berkey Water Filter, the water purification elements that come standard with the Big Berkey have the ability to purify both treated water and untreated raw water from sources such as wells, lakes, streams, and stagnant ponds. I love that the Royal Berkey is portable and easy to take with you.
If you want to go ahead and buy a Berkey Water Filter, do it! If you end up winning, they will either refund your payment or send you another free one. So there's no need to wait, you have nothing to lose
A Berkey Filter is able to remove the following from water:
Viruses
Pathogenic bacteria and cysts (like E. coli and giardia)
Nitrates & nitrites
Parasites
Herbicides & pesticides
VOCs
Detergents
Heavy metals (like lead, mercury, and chromium)
Iron
Chlorine
Sediment
Nasty tastes and odors
Chloroform
This system is so powerful it can remove red food coloring from water without removing the beneficial minerals your body needs!
Check out the video below for more info on the Royal Berkey Water Filter

Click Here to Pin This Giveaway!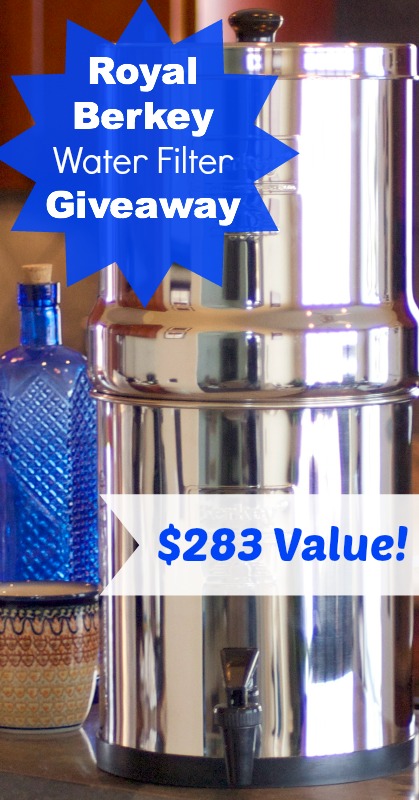 Enter for a Chance to Win a Royal Berkey
There are 3 easy steps to enter:
1.  Click on the link below to visit the Berkey website. This is the mandatory entry. After you visit the link, just return to this article and complete steps 2 and 3.
(NOTE: If you can't see the link above it's because you have ad blocking software enabled or javascript disabled. Please disable your ad blocker or enable javascript to see the link.)
2. Enter using the Rafflecopter widget below to show you performed the mandatory entry of visiting the Berkey website.
3. You can earn extra entries for following Big Berkey on Facebook, Twitter, Google+, Pinterest, and YouTube.
a Rafflecopter giveaway

Sponsored Post: I was paid for this post, but I only do this for brands I personally trust enough to endorse.
Click +1 Below:
This content will be shown after all post