This content will be shown before all post
Recently I attended the Low Carb Cruise.  The Low Carb Cruise is a great way to hear from doctors, nutritionists, and other speakers in order to get the latest information from the low carb and/or paleo communities.  One of the speakers was Wendy Myers, a certified holistic health and nutrition coach, and her topic of discussion was all about Obesogens.  This year one of my goals has been to reduce obesogens from my life and find natural replacements. Her topic hit home to me because it touches one of the topics that I've been realizing over the last few years….changing your diet may not be enough.
What Are Obesogens?
Chemicals and toxins in our air, food, water, and beauty products are making it easy to gain weight and hard to lose weight by causing disruption to metabolic or hormonal processes either directly or indirectly.  They have the ability to alter fat cells in order to promote fat retention.  For more info listen to this podcast from Liveto110.com.
Where are They Found?
Some common obesogens are:
BPA (found in plastics)
Parabens (found in personal care products)

Phthalates (found in various products and are synthetic estrogens, capable of blocking or mimicking natural estrogen in the body)

Pesticides (found on non-organic produce)
Click Here to Pin It!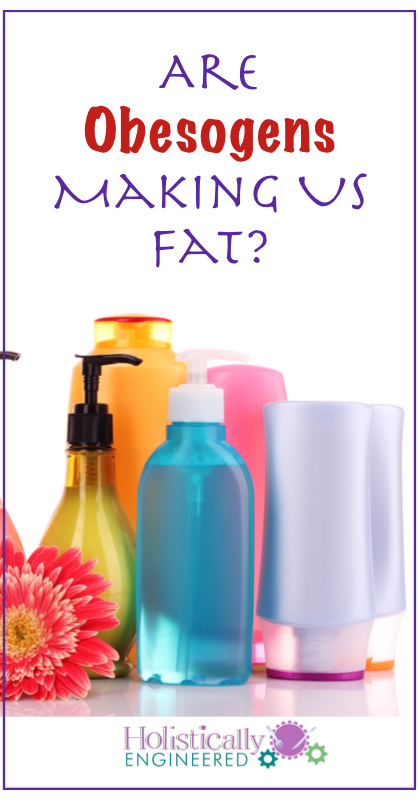 Natural Ways to Reduce Obesogens
Let me first say, that removing obesogens from my life has been a process.  I didn't decide to replace everything in my house overnight.  Becoming aware of what is in the products you use is the first step.  Homemade isn't always an option so the Environmental Working Group's Skin Deep database can help you chose the least toxic options while you make the transition.   Some of the first steps I took to reduce obesogens was to buy organic produce from a local farm as well as replace my plastic cups and storage containers with glass.
Since obesogens are found in commercial beauty products and toiletries I have recently started replacing them with homemade items.  Once of the greatest ways I have found to help reduce the beauty products that contain obesogens has been essential oils.  The Premium Starter Kit from Young Living has given me several different oils that are great for using in homemade beauty products and homemade cleaning products.  The essential oils are pure (nothing added to the oils) and therapeutic grade.  Some of the best oils for cleaning and personal care products have been:
Lemon
Purification
Thieves
Lavender
Frankincense
Peppermint
All of these oils, plus more, are found in the Premium Starter Kit that I got when I signed up as a Wholesale Member (like a costco membership with 24% off essential oils).
10 Homemade Recipes without Obesogens
Click +1 Below:
This content will be shown after all post